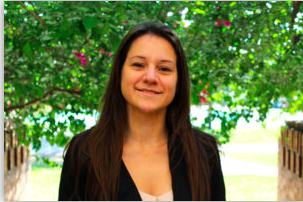 Junior Data Engineer Intern, Finexio
Don't let someone tell you that you're not capable of your dreams.
I use data management tools such as PostgreSQL, DBT, and Python to manipulate data sets to be stored in more usable formats for other members of the team.
WHY DID YOU CHOOSE THIS FIELD?
Data has always interested me. I always like to think how the initial chaos means nothing and is so overwhelming, with some wrangling and coercing, you can manage the mess and create something meaningful to the business.

Initially, I went to school for Computer Science as I figured I would need to know how to code well for this field. Though this is true, as I was taking the math for the courses, I fell in love. Math is beautiful. It always works, it makes sense and it can take chaos and make it meaningful. I decided to major in math and learn how to code as a minor.

Throughout college, I came in contact with some wonderful people whom showed me that math isn't so cut and dry that we are used to in grade school and very complex subjects can be taught to younger children such as topology to kindergartners. I got involved with the Orlando Math Circle and we brought math enrichment from large mathematical professional societies/Russian math circles to the children in Orlando. The lightbulb click with the students really showed me that I picked the right field and solidified my love of clearing the chaos not just for a business but, for those in my community.
WHAT DO YOU LOOK AT & THINK, "I WISH YOUNGER ME WOULD HAVE KNOWN THIS WAS POSSIBLE?"
Being one class away from graduating with a mathematics bachelors and computer science minor. I never thought that the girl who struggled in math so much in grade school would have it click one day and fall in love with the subject.
WHY DO YOU LOVE WORKING IN STEM?
I wake up looking forward to solving new problems, pushing the business forward with my solutions and being a "rubber duck" to my fellow peers (assist in debugging/problem solving coding issues).
BEST ADVICE FOR NEXT GENERATION?
Don't let someone tell you that you're not capable of your dreams. You are. You can set your mind to do anything you want, it will just take hard work and lots and lots of practice.

If you fall down, dust yourself off and get back at it. All those falls make you stronger, teach you that mistakes are okay and how to learn from them.

We are all rooting for YOU.
"Do not fear failure but, fear not trying" - Roy T. Bennett