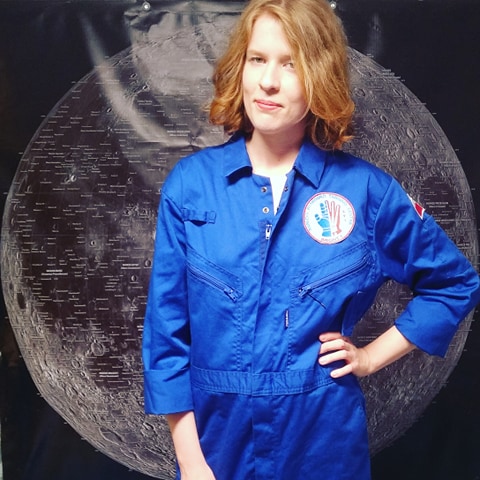 Student at Wrocław University of Science and Technology
I am a space girl! I am a leader of Innspace team, a group that carries out projects related to space engineering. We are a group of people from various cities and specialties who together design Martian bases or suborbital planes.

I am professionally involved in marketing, although I graduated from Automation and Robotics as well as Management and Production Engineering.
WHY DID YOU CHOOSE THIS FIELD?
I joined a scientific assosiation that built Martian rover for student competition to help them with website and social media.

I was fascinated by this industry because it combines many different professions and specialties, not just engineering. I started to run my own projects and now I can't imagine giving it up. I love Mars. Most of the projects I was involved in, was associated with Mars. I hope to see the first man landing on this planet.
WHAT DO YOU LOOK AT & THINK, "I WISH YOUNGER ME WOULD HAVE KNOWN THIS WAS POSSIBLE?"
I never thought I would design vehicles or Martian bases. I finished Automation and Robotics, but I thought that this career path is not interesting for me. Once I regretted choosing this direction and wasting my time. Now I think it was a good choice because I use the acquired knowledge in all projects, not only robotic ones.

I would say to a younger person that nothing is worth regretting. Ultimately, there is no one way to make your dreams come true, and even if it seems that some decisions was not the best, the experience gained will pay dividends sometime, even at the least expected moment.

I would like to know faster that I can get involved in something like that. I had no idea that you can deal with space, and yet it is the dream of so many children. That is why today I often share my knowledge, experience and passion with adults and children to make them realize that space exploration is not only a dream but a reality that happens right before our eyes and there is a place for everyone.
WHY DO YOU LOVE WORKING IN STEM?
I love STEM projects because they are very interdisciplinary. They require not only a technical approach, but also consideration of other, more social aspects. Many people mistake that this is only for engineers, but science and technology can be done by anyone, and that's the most beautiful thing about it. A psychologist, artist, teacher or marketing specialist will find his place. All you have to do is want it.
BEST ADVICE FOR NEXT GENERATION?
Do what you love, even if you get the feeling that it doesn't have the expected effect. Before I discovered that I could deal with space, I did many things that did not lead me directly to it. But seemingly unconnected to space experience is now my strength and I use it every day. It is worth remembering that there is no one way to make your dreams come true. You have to try and try until you succeed. And finally it will succeed.
"We choose to go to the Moon in this decade and do the other things, not because they are easy, but because they are hard, because that goal will serve to organize and measure the best of our energies and skills, because that challenge is one that we are willing to accept, one we are unwilling to postpone, and one which we intend to win, and the others, too." John F. Kennedy

This sentence reminds me in difficult moments that I have my goal and even if it is hard, the satisfaction from success will be great. And it's not worth giving up.