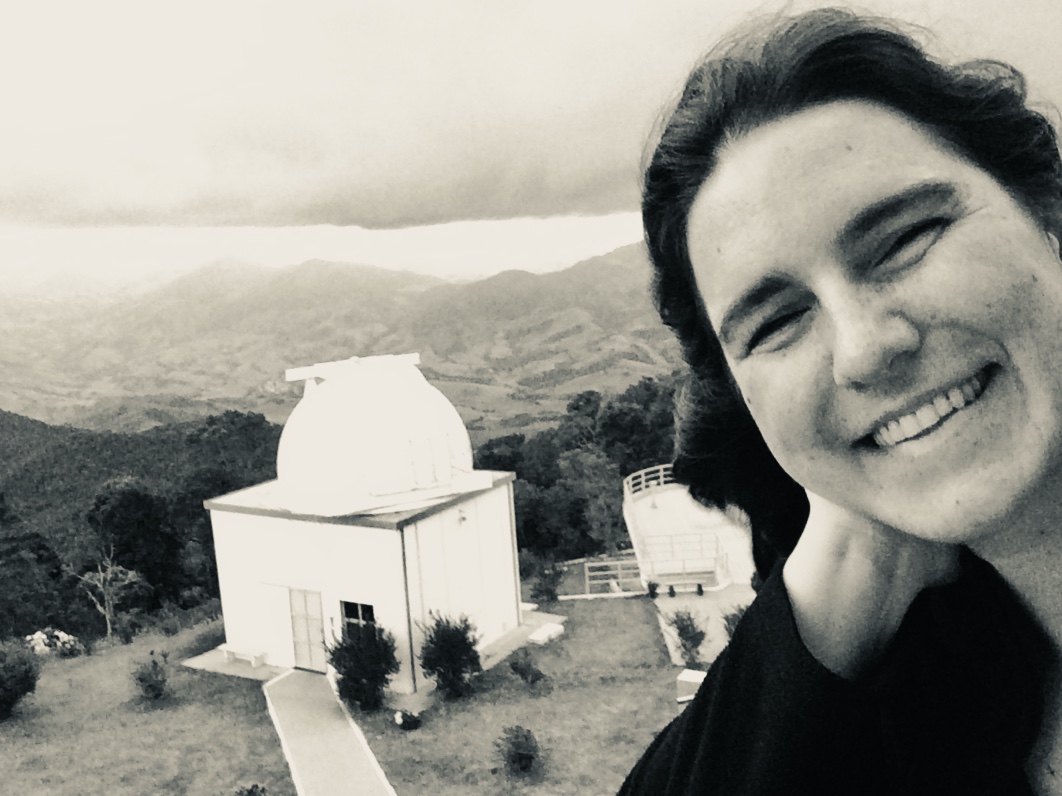 Astronomy Professor at the Valongo Observatory -- the astronomy institute of the Federal University of Rio de Janeiro
As an astronomer what rocks my professional day-to-day is studying (and learning about) our universe. My main interest is to study galaxies out there with big telescopes in order to understand how systems like are own Milky Way come to be. My job is not only about pretty galaxy pictures, but I get quite a bit of that... so beauty definitely is part of my everyday life! Although most of my days are spent at the university interacting with students or in front of my computer, I do travel quite a bit -- a fantastic perk of my job! I go to a few national/international meetings per year where I meet up with peers to learn and discuss about new findings in my field. I also go to observatories to collect new and beautiful data to move forward my research projects and those of my students. I do love my job in the university setting: I teach, I work at my computer (most of my research is done right there!) and meet with colleagues/students/postdocs to discuss science. The university setting places me within an ever-changing community of young thinkers... If one pays attention and stays connected with the community, social evolution and revolutions are always connected to universities.
WHY DID YOU CHOOSE THIS FIELD?
As a high school student I knew I wanted to teach -- but... what area? I was leaning towards literature -- I was an avid reader and was particularly in love with hispano-american literature. But then I took a Physics course that changed everything -- I fell in love with the realisation that we can break down everyday experiences into bits that can be explained with a few basic laws of Physics (ok -- then I was only thinking of Newton, gravity, etc... not too hard core ;-) I was 16 years old. I applied to Physics undergrad, where I continued loving the courses -- but I became increasingly worried that I needed to find an inspirational setting to put into practice all the fantastic things I was learning. It was doing a few summer internships (motivated by my need for $$ over the summer) that I discovered Astronomy. I did a few internships on other Physics subjects, but the epiphany that Astronomy was the path I wanted to choose was during a summer program where I worked hours-on-end on galaxy data. So I was not swept off my feet by a gorgeous night sky, but by galaxy images in a computer screen!
WHAT DO YOU LOOK AT & THINK, "I WISH YOUNGER ME WOULD HAVE KNOWN THIS WAS POSSIBLE?"
I am right now undertaking an amazing survey to answer some fundamental questions about how stars get distributed within galaxies and how dark matter helps shaping this. With my group of students and close colleagues we are taking super deep images of hundreds of galaxies and the resulting data will be a really nice legacy for future researchers. I think my younger me would have gotten a real kick out of knowing that a "normal" person like her could come up with a cool idea with such a legacy.
WHY DO YOU LOVE WORKING IN STEM?
I love working with people on big questions. I love working towards solving problems with no evident solution. I love that, with the knowledge-baggage acquired through my education and never-ending learning, I am equipped to tackle questions regarding how, when, why the universe is shaped as it is. I do feel like a very "normal" person, so I am amazed at the wonderful and awe-inspiring subjects that a "normal" person like me can tackle. It is an incredible feeling -- to contribute to the growth of knowledge that humanity has been constructing over the years... wow, a wonderful feeling! I also love that my field is composed of a very international array of people, which enriches all discussion. I am definitely a people-person and solving problems in company is what gets me out of bed!
BEST ADVICE FOR NEXT GENERATION?
Persevere! Insist! Something sounds interesting? Go for it? Maybe they won't choose you? Try it anyways! I did not have an "easy" path -- at many turns I was told that I was not good enough. My PhD seemed like a bead-string of situations that kept pushing me down. But, greatly thanks to my family and the wonderful friends I made along the way, I held on and today I feel like I've really made it -- I work where I want to work and I pursue the science that motivates me.
In Spanish -- "si del cielo te caen limones, aprende a hacer limonada" which translates to something like "if life throws lemons at you, learn to do lemonade!"