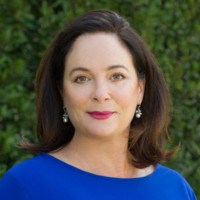 Chief Marketing Officer, Kofax
Embrace that you can change the world!
My team and I are storytellers at the end of the day. We share the stories of our customers' successes, and how our products can drive innovation, productivity and employee satisfaction across an enterprise.

On any given day, I wear multiple/different hats. From sitting with engineering to drive and strategize about new/improved product enhancements, to analyzing data about demand generation, pricing and customer engagement to meeting with analysts, customers, partners and my peers about the trends we are seeing in the market.
WHY DID YOU CHOOSE THIS FIELD?
I started college as a french major...because all I knew is that I wanted to travel and I had taken french since grade school. Math wasn't even on my radar, but that's what I ended up with thanks to an amazing TA. He helped me understand that math was just another language and that's when so much fell into place.

I've tried many roles along the way: programmer, business analyst, product management, product marketing. I've also moved between industries - insurance, pharma, telecom, information services, enterprise software. Some changes were by choice, others not so much. For example, I quickly learned that I was a really bad programmer, so I moved into a business analyst role. They call a "pivot" today.

It was at AT&T Bell Labs that I really came into my own. There I was surrounded by technology and brilliance - men (and one woman) who were subject matter experts in their fields. My role was to develop the business plans to drive revenue with all these goods ideas. I became an expert in taking very complicated concepts and translating them so that they could be successful in market. That's ultimately where the storytelling comes into play.

With each career change came new challenges and learnings - so I built up a portfolio of skills and experience and ultimately confidence.
WHAT DO YOU LOOK AT & THINK, "I WISH YOUNGER ME WOULD HAVE KNOWN THIS WAS POSSIBLE?"
I wish someone had encouraged me to be bold when I was younger. I was taught to maintain the status quo and not rock the boat. But true innovation comes from challenging the status quo and driving change - being bold.
WHY DO YOU LOVE WORKING IN STEM?
No two days are ever the same. I enjoy the challenge and the sense of accomplishment when things come together.
BEST ADVICE FOR NEXT GENERATION?
Embrace that you can change the world! Don't be intimidated by the boy's club - if you're the only woman in a meeting, own it. You have a voice, be confident and use it.
Learn from the mistakes of others. You can't live long enough to make them all yourself. - Eleanor Roosevelt