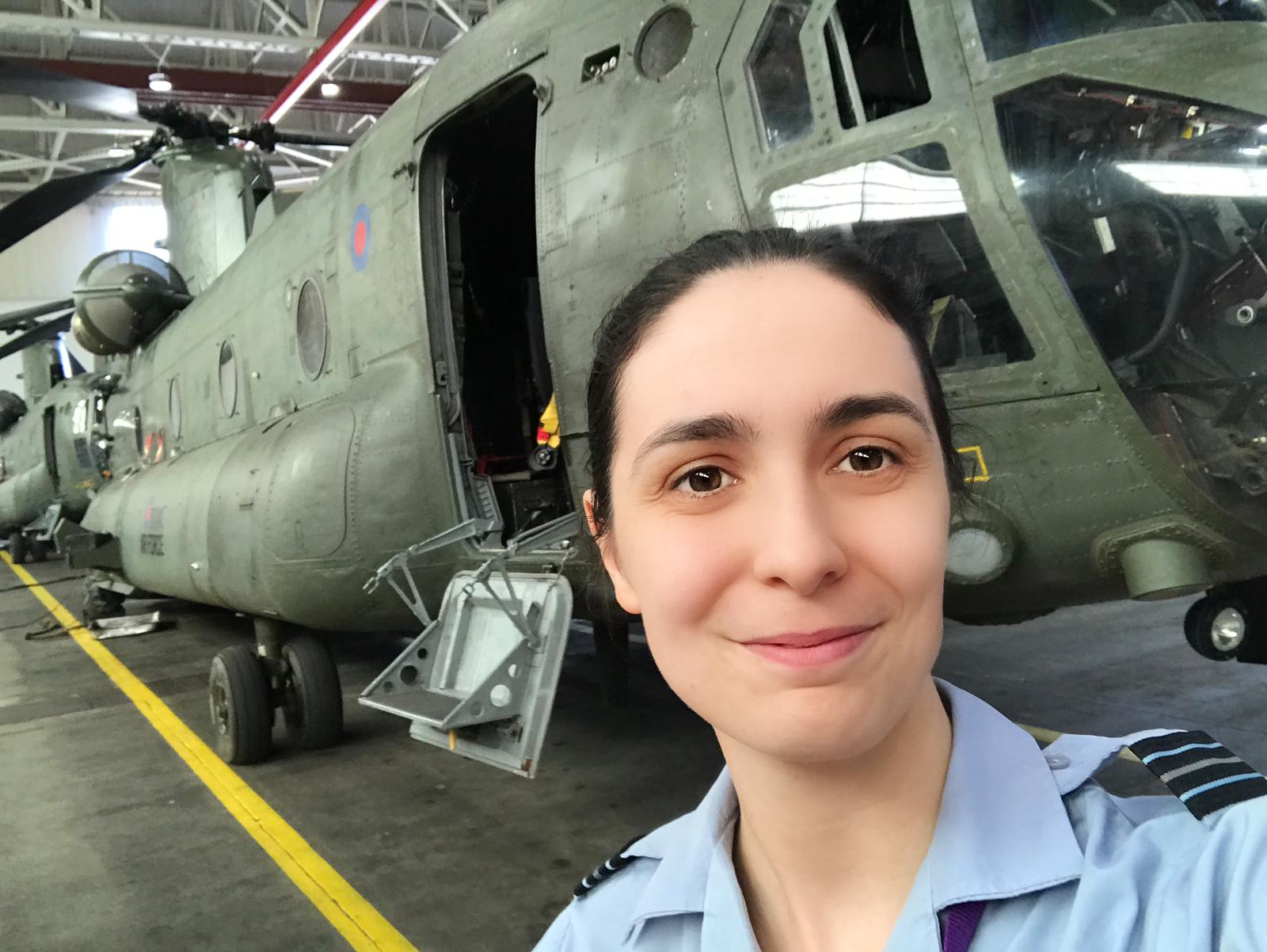 I'm responsible for the in-service support of the military specific avionics systems on the UK Chinook Fleet. That includes managing any emergent issues across the fleet and monitoring for trends and significant safety events.
Why did you choose this field?
I joined the Air Training Corps at age 13; my father is on the staff at 424 (City of Southampton) Sqn, and I got a lot out of being an Air Cadet. I've always been interested in aviation and I was pretty much raised on science fiction. Both of my parents were software engineers and my family is generally quite technical.

When I was 14 there was an add for Welbeck, the Defence Sixth Form College, which was designed to streamline students into technical roles within the Armed Forces and the Ministry of Defence. A friend from my Air Cadet Squadron went a few years ahead of me so I learnt as much as I could from her and then applied when I was 15.

I spent two years at Welbeck and then went to Loughborough University on an RAF sponsorship to study for my Master's in Aeronautical Engineering. I went straight from university to the RAF College Cranwell to become an RAF Engineer Officer.
What do you look at and think, "I wish younger me would have known this was possible"?
I think I've always had an issue with confidence. Sport and the Air Training Corps definitely helped with that. But at the end of my two years at Welbeck there was a graduation parade and awards and I won Best RAF Cadet for my entry and it was a massive shock. Then when I finished Engineer Officer Foundation Training I was posted straight to LXX Sqn to be the first A400M Junior Engineer Officer. It's unusual to go straight into a flying Sqn; most Engineer Officers do a Foundation tour first in a second line environment. I think I realised maybe a week before hand that I was actually doing quite well on the course but it was still a bit of a shock, especially going onto a brand new aircraft.
Why do you love working in STEM?
I love the variety of my work. Engineering is all about problem solving and those problems can come out of anywhere.

I also love that it's really easy for me to see the benefit in what we do. In 2017 LXX Sqn were involved in urgent aid delivery during a series of hurricanes in the Caribbean, and it was a difficult couple of months at work but it was so obviously important that we did our very best.

Bust mostly I really do love the people I work with. I definitely classify myself as a nerd, but I've found myself an environment where people are not only accepting of who I am but value and appreciate it.
Best advice for next generation?
I think young people need to see the huge range of disciplines involved in STEM. We tend to put ourselves in boxes, at quite a young age actually, of being scientific, or artistic etc. But there's actually a huge overlap between all of those things, and as a society we need to have that diversity in STEM industries, because we need people with different backgrounds and different perspectives in order to come up with new and innovative solutions.
Inspo quote / fun fact / role model
Ever tried? Ever failed? No matter. Try again. Fail again. Fail better. - Samuel Beckett