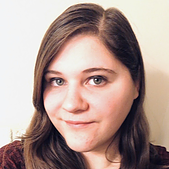 PhD student, Penn State University
Your perspective in the STEM fields matters, so follow your passions!
I am doing research on microbial interactions, looking into how bacteria communicate with each other.
At the beginning of my PhD I got to teach undergraduate classes while taking classes myself, but now I focus on my own research. I'm encouraged to learn new skill sets and explore cutting edge technology that I wouldn't have the time or resources to look into otherwise.
WHY DID YOU CHOOSE THIS FIELD?
I wanted to be an artist most of my life, but always had an appreciation for science. My mom worked in a blood lab when I was young before she decided to stay home to raise me and my siblings, and she shared that passion for the sciences with us.
In high school I took a microbiology course and fell in love with the discipline. I did research in college with an amazing advisor and labmates, and knew I wanted to continue on to graduate school.
WHAT DO YOU LOOK AT & THINK, "I WISH YOUNGER ME WOULD HAVE KNOWN THIS WAS POSSIBLE?"
I had bad self esteem when I was younger, like I'm sure most young girls do. I was overly modest in my capabilities. My senior year in college I was awarded a microbiology award for my dedication and leadership in my research group. I was always capable of more than I gave myself credit for, and I wish a younger me had been able to see it.
WHY DO YOU LOVE WORKING IN STEM?
I love being able to be creative and use my problem solving skills to look at research questions in a different light. I know that even if my work seems very specific and small, it fits into a larger piece of our understanding.
BEST ADVICE FOR NEXT GENERATION?
You are smart, capable, and able to make a change in the world. Your perspective in the STEM fields matters, so follow your passions!
"Be the reason that people believe there is good in the world."