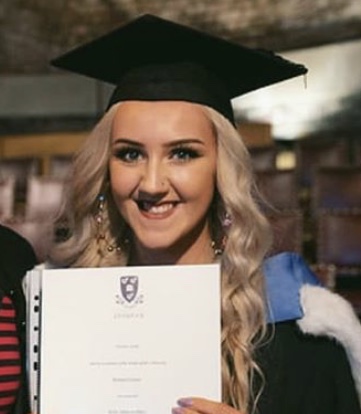 Epidemiologist, University of Leeds
Choosing to follow a path less traveled by those of your demographic will always be a tough decision.
I conduct quantitative research in the field of Paediatric Cancer Epidemiology. My current role involves applying advanced methodological techniques to linked electronic healthcare datasets in order to facilitate a series of epidemiological research looking at the survival and long-term outcomes of cancer in children and young people.
WHY DID YOU CHOOSE THIS FIELD?
During my undergraduate studies for fulfilment of a Biological Sciences (BSc) degree, I took numerous modules on both infectious and chronic diseases and learned a great deal about the importance of epidemiology as the cornerstone of public health. I was also heavily inspired by the stories of inspirational women paving the way for women in the medical field. A role model of mine is Mary Guinan, one of the first female physicians to work on smallpox eradication at the Centers for Disease Control and Prevention and one of the first doctors to work on the AIDS epidemic.
WHAT DO YOU LOOK AT & THINK, "I WISH YOUNGER ME WOULD HAVE KNOWN THIS WAS POSSIBLE?"
Graduating top of my class in my Biological Sciences (BSc) degree cohort at the University of Liverpool in 2018 and being awarded the 'Kirby Johnston Award for Academic Achievement' for my work investigating the effects of thermal stress on the fertility of meiotic drive Drosophila subobscura males.
WHY DO YOU LOVE WORKING IN STEM?
I feel grateful everyday that I am representing women in data science, a greatly male dominated field. I look forward to obtaining my PhD and further contributing to research which is changing and improving the quality of lives for thousands of paediatric cancer survivors. I love the feeling that what I do is making a real difference to lives, informing evidence-based interventions and policy. On a personal level, through being a women in STEM I hope to continue breaking boundaries and inspiring the next generation of female scientists, little sisters, cousins and daughters, showing them that regardless of gender, race, or religion, you can be anything you want to be.
BEST ADVICE FOR NEXT GENERATION?
Choosing to follow a path less traveled by those of your demographic will always be a tough decision. Feeling unrepresented and being continually faced with the actions and opinions of those who are implicitly biased towards maintaining a particular status quo will be tough. My best advice to women aiming to pursue careers in STEM fields is to surround yourself with other strong and inspiring women, educate yourself on women in science who have come before you and recognise that whilst some internal bias may still exist, you should refuse to let it affect your self-worth. Know that there are no limits to what you are capable of. Bring to the table your unique perspective and hard-earned talents and you will succeed.
"Somewhere along the way I decided that if I was going to be a nurse, I might as well become a doctor." - Helen Octavia Dickens.