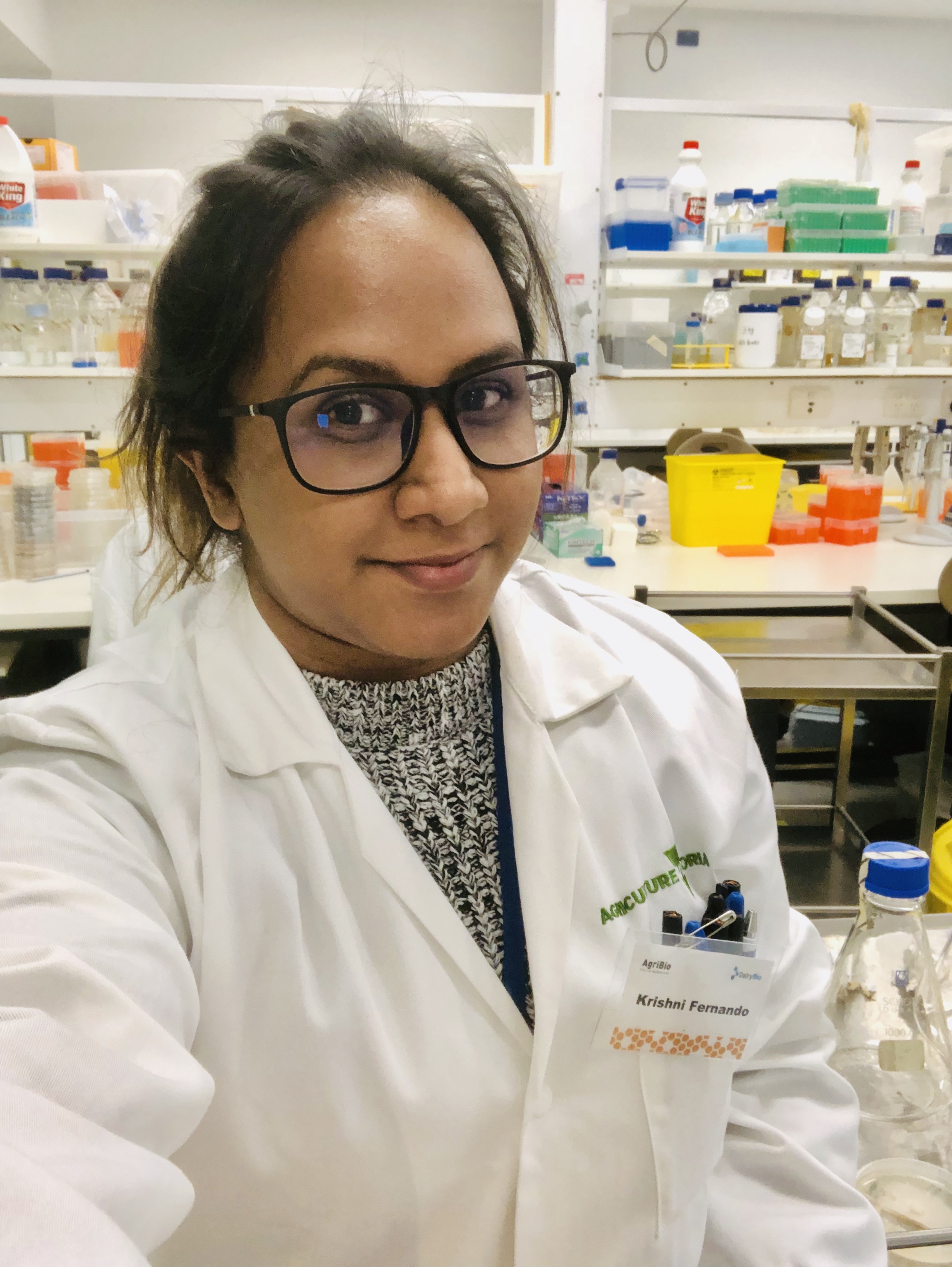 PhD student,
Agriculture Victoria Research, Department of Jobs, Precincts & Regions & La Trobe University
It is curve of learning and embracing where you want to be and what you want to do in STEM.
Pasture plant diseases have a significant impact on pasture quality and production, reducing the amount of good feed available for livestock. These diseases can also affect animal health, as many disease causing fungi produce toxins. The purpose of my project is to investigate the use of beneficial fungi to improve disease resistance in pasture grasses. The beneficial fungi I study are symbiotic fungal endophytes that produce bioprotective compounds. They live inside the plant, but don't cause any problems to the plant. My research involves discovering the individual protective compounds produced by beneficial endophytes. My work will help the dairy industry to reduce the effect of pasture plant diseases using the natural products produced by beneficial fungi.
WHY DID YOU CHOOSE THIS FIELD?
I always wanted to pursue research since I started my undergraduate degree. While at it I found my passion towards plant sciences. I found how fascinating plant interactions and their biological and chemical responses are. More and more I got to understand the mechanisms, it was very interesting to know how much it could benefit to sustainable agriculture and human health by unravelling the biology and chemistry behind plants and their interactions. My undergraduate research collaborated with Horticultural Crops Research and Development (HORDI) in Sri Lanka was an eye-opening opportunity where I saw how research findings can support and improve sustainable agriculture. When I moved to Australia and volunteered at molecular phenomics and molecular genetics research groups at Agribio Research Institute for Agriculture Victoria, which is a pioneer in Australian agricultural research, I was drawn to the advanced technology, resources, knowledge and ongoing research in the facility. It was fascinating how much I could contribute to the world by becoming a scientist and there was no doubt selected the right path for myself as I could see so many inspiring scientists and research towards betterment of agriculture
WHAT DO YOU LOOK AT & THINK, "I WISH YOUNGER ME WOULD HAVE KNOWN THIS WAS POSSIBLE?"
I wish younger me would have known that I could be where I am today. Younger me growing up in a small developing country getting a basic degree was a huge accomplishment. Doctoral degree, miles away in a prestigious research institute and a renowned university was only a dream. Social and cultural environment in I grew up understood that only Doctors and Engineers as STEM. I wish younger me had known that there is more to STEM than doctors or engineers. I wish younger me had known that I had the courage to leave my home country and pursue what I have today. I wish younger me had known every single step I took to improve myself in last 15 years will lead me here.
WHY DO YOU LOVE WORKING IN STEM?
Nothing excites me more than being able to do something new. In STEM, it always keeps challenging, improving and adapting. While you get inspired and mesmerised by all new knowledge and technology in STEM, it's fascinating to see how the knowledge and technology is applied. I wake up looking forward to "what I can do beyond and better than what I did yesterday".
BEST ADVICE FOR NEXT GENERATION?
It is curve of learning and embracing where you want to be and what you want to do in STEM. You don't have to be a genius or a nerd. STEM has no limits or boundaries. There are lot more people in STEM than you think, and lot more girls going through the same challenges. Keep going until you feel happy and proud in what you are doing.
"Trust in yourself, believe that your voice matters, and know that your words are good enough." – by Amber Gordon