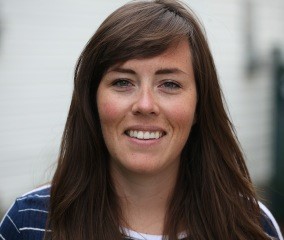 I look at subsurface data to try and predict the type and geometry of the rocks present at several kms depth
Why did you choose this field?
I wanted a career where I could travel and get outside. I love geology because it's a mystery and it requires that you be analytic but also imaginative.
What do you look at and think, "I wish younger me would have known this was possible"?
I went and got my Masters after a couple of years of unfulfilling work. I always thought grad school was only for the mega-geniuses but the chance to focus my knowledge and explore topics that I was too young to realize were interesting when I was in undergrad was amazing. And it led me to the job that I have now, which I love.
Why do you love working in STEM?
My work is extremely collaborative. I love talking to my colleagues and discussing the different models or outcomes that we are expecting. We also deal with a lot of risk and I love the process of quantifying that. The balance between having to adhere to the data, but also needing to fill in the gaps where the data is insufficient or missing, is what drives me in my work.
Best advice for next generation?
To make space for yourselves. It doesn't matter if you're ultra 'girly' or a 'tomboy' or somewhere in the middle, you belong in STEM if you want to be here. There is room for all range of women in STEM and we need to make it so that the whole spectrum of women and their personalities and interests are represented.
Inspo quote / fun fact / role model
"If you're not making mistakes, then you're not making decisions"