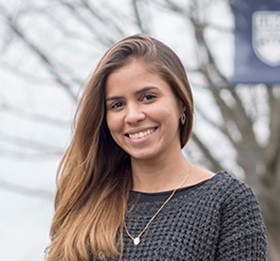 Research Assistant & Sessional Instructor, The University of British Columbia
STEM is for you! STEM is for everyone. 

I work for the Human Nutrition and Vitamin Metabolism Research Group at UBC, and our research work focuses on health & nutrition across the lifespan. I provide support to the research activities of my research group, and that includes many different tasks - from analyzing biological samples for nutrition biomakers (e.g. vitamin concentrations in blood) to data analysis and manuscript writing.

I am currently also working as a Sessional Instructor at UBC, teaching International Nutrition.
WHY DID YOU CHOOSE THIS FIELD?
I started considering a career in nutrition in high school, after a biology lecture on vitamins. I was fascinated by the connection between food and health, and I felt like that was something I would never get bored of learning about. I proceeded to pursue a career in Dietetics, but still in my first year of University, a Professor asked me if I would like to volunteer in her *vitamins* lab, and I happily said yes. I got my degree in Dietetics, and managed to work in that lab for 4 years. That was the start of my interest for nutrition research.
WHAT DO YOU LOOK AT & THINK, "I WISH YOUNGER ME WOULD HAVE KNOWN THIS WAS POSSIBLE?"
I was born and raised in Brazil and never thought I would build a career outside of my home country. My first experience being emerged in English was thanks to a scholarship I received in 2013 called "Science without Borders", which allowed me to study English for 8 months in Canada and take some University courses. Back in 2013, I thought I would never become fluent enough to work and pursue a career outside of Brazil, and today I work as a Sessional Instructor and Research Assistant in Vancouver, Canada. Younger me would be shocked!
WHY DO YOU LOVE WORKING IN STEM?
I love knowing that my work is driven by curiosity, and, most days I wake up looking forward to making progress on answering scientific questions. I do not mean to romanticize our work in science here... it's hard. I have been very lucky to have a supportive community of strong women who also work in science and who inspire me every day, especially on those hard days, and I need to acknowledge them as a reason why I love working in STEM.
BEST ADVICE FOR NEXT GENERATION?
STEM is for you! STEM is for everyone. 

My best personal advice would also be: don't worry about the STEM stereotype. If you think to yourself "but I'm not a science nerd..." - well, me neither! I still enjoy my Brazilian soap operas, hip hop dance classes, and have never won a single Trivia game. The major aspects that got me here were passion, curiosity and persistence.
"This is a wonderful day. I've never seen this one before" - Maya Angelou