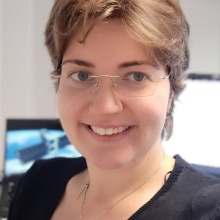 Research Assistant, PhD candidate, Engineer,
University of Stuttgart - Institute of Robust Power Semiconductor Systems
Don't be afraid and be curious! Don't be afraid to pursue STEM.
I am contributing to the future of high data-rate communication systems and I investigate the atmospheric effects on the data transmission. I am the system engineer of the EIVE (Exploratory In-Orbit Verification of an E/W-Band Satellite Communication Link) mission. On one hand, with the planned data downlink from the Cubesat platform to the ground station, the feasibility of high speed data links in a new frequency range for satellite communications will be assessed in an in-orbit scenario. On the other hand, applications and services for earth observation will be addressed with the planned payload, since in the future, such applications could increasingly be served by nanosatellites in the low-earth-orbit (LEO). For various applications based on W-band satellite communications such as e.g. Inter-satellite links (ISL) or duplex-capable data links for global mobile and Internet coverage via satellite networks (5G, 6G, etc.), innovative platforms such as small satellites with correspondingly more complex payloads and innovative antenna technologies will be highly attractive in the future. My job is to design the payload computer in order to achieve all the mission objectives, to send the correct data at the correct time and to investigate the effects of the atmospheric conditions on such high data rate links.
WHY DID YOU CHOOSE THIS FIELD?
I am working in the electrical engineering field for aerospace applications. I have chosen engineering because I am the third generation in my family to have engineering studies and I was (and extremely lucky to still be) inspired by my grandparents and parents. Their technical approach, the capability to solve any problem that appears, questioning every aspect and the light in the eyes when they read/speak about a new discovery fascinated me. I was motivated by the patience with which they have always explained to me how the world works, what are the laws of mathematics and physics, the critical thinking, they have all contributed to my career and my development. Moreover, during the school I was motivated by my physics teacher and I developed a passion for the field, while studying with pleasure all the other subjects. I am passionate by space science since I participated during my bachelor studies in the ESA's Rocket Experiment for University Students (REXUS) programme, where together with my colleagues, we have designed an experiment for studying the melting and welding processes in milligravity and launched it with a suborbital sounding rocket. For the results we were awarded by the International Astronautical Federation (IAF) with the Hans von Muldau Award for the best team project at the International Astronautical Congress (IAC) in 2013 in Beijing, China.
WHAT DO YOU LOOK AT & THINK, "I WISH YOUNGER ME WOULD HAVE KNOWN THIS WAS POSSIBLE?"
I wish I would have realized while I was younger that you don't have to do what everyone else is doing and that you have your own star shining for you and your own path if you follow your passion. I wish younger me would have realized earlier that my job can also be my passion/hobby and I should not be afraid of change as long as I follow my passion. I wish younger me would have had more women in science and engineering as role models. I wish younger me would have developed healthy eating and exercise habits earlier on.
WHY DO YOU LOVE WORKING IN STEM?
I love STEM because it is also my hobby and because every day you do something new, you change the world a little bit every day, you can be creative and dreamer but you also have to be precise and refer to past experiences. It is amazing to think that basically in one lifetime (approx. 70 years), the technical fields did the highest jump: 70 years ago there was only radio but no TV and meanwhile we send people in space, we have colored TVs which can be turned on/off remotely or even be programmed to record the preferred show, we have "smart" mobile phones, we have extremely performant medical devices for prolonging our lives but also for precisely diagnosing almost any problem. This is also what motivates me every day, knowing that I can contribute to the development of this world (right now by either providing high-speed internet to the remote regions, or improving the current Earth observations capabilities). I also wake up and look forward to inspire my students, to be an example for them and to motivate them to continue in this field, no matter of the hurdles: the rewards are much bigger.
BEST ADVICE FOR NEXT GENERATION?
Don't be afraid and be curious! Are you creative? Are you curious how the TV works, how your phone works, how the apps in your phone work, how do we build buildings, cars, fridges, how the car works, how the GPS works? Do you sometimes look at the stars and ask yourself what else is there, how far they are, are they still lighting right now? Do you want to change the world? Do you want to have a respectable career, usually well paid and which gives a lot of satisfaction? If there is at least one "yes" for any of the previous question, then you are suitable for STEM: Don't be afraid to pursue STEM (everything can be learnt, there is no "pre-defined", "genetic" or any other kind of talent required) and continue to be curious, ask yourself how things work and how could you improve them! It will not always be easy, but there is no job/activity which is easy, and a STEM career will give you major satisfaction, when you will realize that with your contribution something happens: a light is turned on/off, a little robot is following a pre-defined path, or that the humidity, temperature, etc. is measured and the plants are watered with respect to the measurement result. And last but not the least, if you follow a STEM career, don't forget to motivate other kids to be like you. You are not only beautiful but also courageous, smart and suitable for STEM!
"Live your beliefs and you can turn the world around." (Henry David Thoreau)

"Modern science and Tehniques have taught mankind at least one leson: Nothing Is Impossible!" (Lewis Mumford)