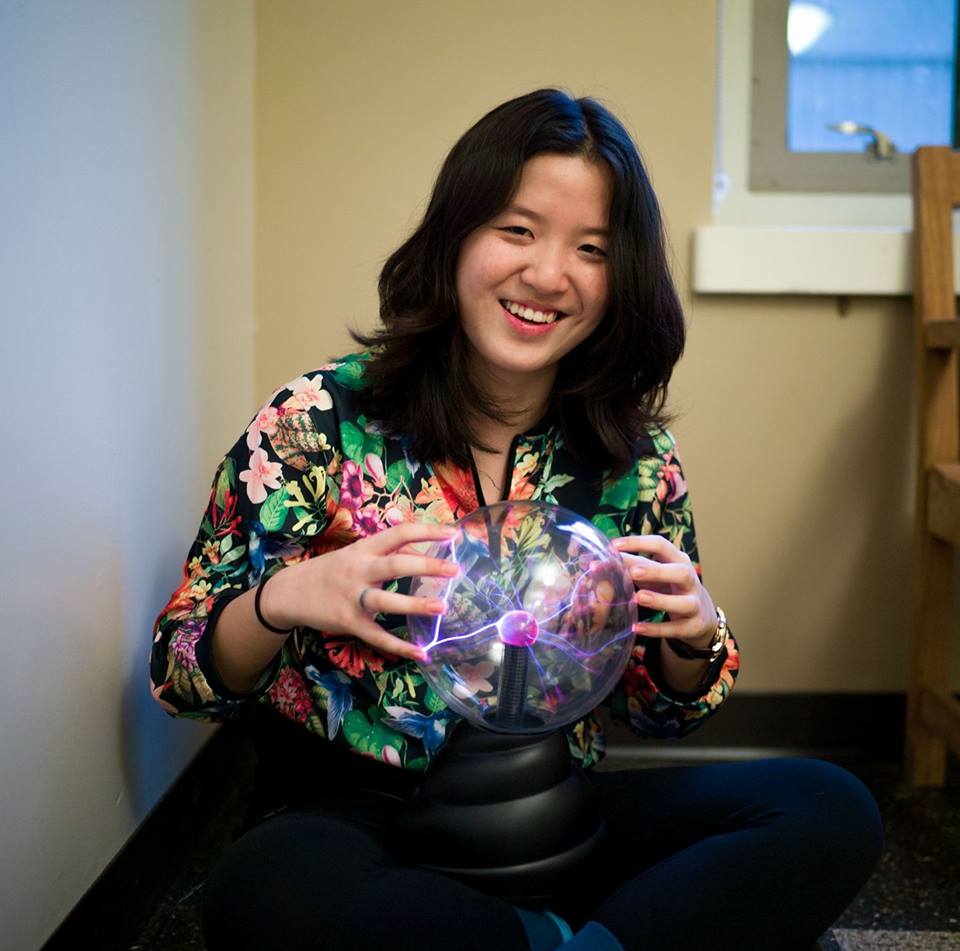 Aerospace engineering PhD student /researcher, Electric Propulsion Laboratory, University of Michigan
Don't let anyone tell you what you can and cannot be.
I design, build, and test Hall thrusters, a form of electric propulsion. Some days this means running a very large and very expensive vacuum chamber for a couple of hours. Some days it means blowtorching metal feedthroughs to get them through acrylic. Some days it means thinking really hard about the plasma discharge in front of me and why it's not doing what I want.
WHY DID YOU CHOOSE THIS FIELD?
I got really into Star Trek in high school, and I loved the idea of being able to work towards the vision they have of a society and a world where we have the means and ability to explore the vastness of space. As an undergraduate in aerospace engineering, I formed a connection with a mentor in the department who introduced me to her plasma physics lab. I started working in that lab in my sophomore year and really enjoyed working with plasma in general; later, that passion turned towards electric propulsion specifically as it fell more in line with my vision for deep space exploration.
WHAT DO YOU LOOK AT & THINK, "I WISH YOUNGER ME WOULD HAVE KNOWN THIS WAS POSSIBLE?"
As a first year graduate student, I visited a NASA center and helped run a test for a very high-profile Hall thruster. It was wild to be considered someone who had the knowledge base and responsibility to be involved with something objectively cool. Now, one of my main projects for my thesis is designing an all-new Hall thruster based on research I've done so far and more research to come--incredibly cool and definitely something that felt like a dream for a really long time!
WHY DO YOU LOVE WORKING IN STEM?
As an experimentalist, there's so much cool stuff I just get to do for fun. Some days when I'm looking into buying parts for my systems, I get google results for science-fiction instead of the parts I'm actually looking for--pretty cool when your work is so neat that people make up stories about it! I really enjoy running experiments, even though it can be frustrating at times. Being able to be part of the design/build/test process from beginning to end is incredibly cool to me, and being able to do and learn new things that have never been done before is very exciting.
BEST ADVICE FOR NEXT GENERATION?
Don't let anyone tell you what you can and cannot be. There are "girly girls" in STEM and "tomboys"; everyone brings something different to the table and can contribute to the incredibly cool stuff going on in the world. Things will be harder because you're a woman, but don't let that stop you--let it fuel you to be even better.
"People leading high-entropy lifestyles are always on the run." -Cengel & Boles, Thermodynamics: An Engineering Approach