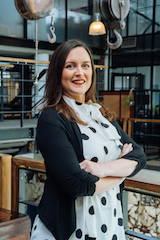 Business Network Director, YPO
Get involved, don't wait for someone to help you.
YPO is the global leadership community of more than 29,000 chief executives in 130 countries who are driven by the belief that the world needs better leaders. Each of our members have achieved significant leadership success at a young age. Combined, they lead businesses and organizations contributing USD 9 trillion in annual revenue. YPO members become better leaders and better people through peer learning and exceptional experiences in an inclusive community of open sharing and trust.

I assist in creating these expectational experiences with purpose driven leaders from around the world.
WHY DID YOU CHOOSE THIS FIELD?
I love working with leaders who want to change the world. When I was little I always pictured myself as an entrepreneur. I am forever grateful that my parents insisted on education as a top priority. They always encouraged me to follow my dreams, become financial independent. They set great examples of what hard work could achieve and treated my ideas as they were the next big thing that the world needed. We always used to play the YES AND game. Yes, and what else could you add to your crazy idea.

I have so many role models, the world is full of talented, amazing and heart centered role models. I enjoy working with individuals who are ambitious, not afraid of a challenge and are inclusive.
WHAT DO YOU LOOK AT & THINK, "I WISH YOUNGER ME WOULD HAVE KNOWN THIS WAS POSSIBLE?"
I think I am only getting started :)

Your mindset is critical, knowing when to push, when to rest and finding the balance between the two are crucial. You possibilities are only hindered by the limitations of your imagination. Dream Big, Work Hard and always stop to find the magic in the mundane.

On a practical level, travel often, travel far, keep people that feel like sunshine close and treat every opportunity as if it is your last. You will meet amazing people who will inspire you to be great and you will meet people who inspire you to be nothing like them. You will have a million combinations of possibilities. Stay true to your calling. You have what the world needs.
WHY DO YOU LOVE WORKING IN STEM?
I enjoy problem solving and creating efficiencies. I really like adding the STEAM (adding ART) and creativity.
BEST ADVICE FOR NEXT GENERATION?
Get involved, dont wait for someone to help you. HELP yourself. Get up, find out more, reach out, ask questions, it is no longer about a seat at the table, it is about what impact are you creating for yourself and the world around you.

Work together, play fair, laugh it off, hug it out and have fun. You make the world a better place by just being in it. Believe in your own magic.
"Be the change you want to see in generations to come."