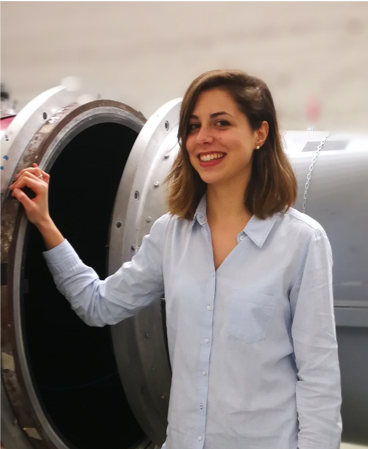 Post-doctoral researcher at Universita di Bologna
STEM is the fun playground of adulthood! Go for it if you feel like it's your road.
I am a researcher in fluid dynamics, so I mainly do experiments in a laboratory using a wind tunnel to see how air behaves when going really fast and flowing over a surface.
WHY DID YOU CHOOSE THIS FIELD?
I have always been a curious girl, the girl of the whys. Knowing why something was happening or the reasons behind a certain shape of an object, or how things were working have always fascinated me. Therefore engineering felt like a natural path to quench this thirst! My dad was a professor in an aeronautics high school, so fluid dynamics had a special place in my heart: since i was little he tried to explain the most basic concepts through games and stories. Moreover air is literally everywhere, i wanted to make sure to do something I could deal with and see in real life!
WHAT DO YOU LOOK AT & THINK, "I WISH YOUNGER ME WOULD HAVE KNOWN THIS WAS POSSIBLE?"
I just got my PhD in aerospace engineering: as someone without female role models to look up to and as a very insecure and anxious little girl, this is something I never thought possible.
WHY DO YOU LOVE WORKING IN STEM?
I wake up knowing that I will find answers and they will lead to more questions. I like doing experiments because I feel like silently watching nature revealing us her secrets, and that's a great privilege researchers have.
BEST ADVICE FOR NEXT GENERATION?
STEM is the fun playground of adulthood! Go for it if you feel like it's your road. As women we are often brought up to be perfectionists, but the biggest lessons you will learn is to learn to fail and get up again to pursue your dream. So don't be afraid, and dive in!
"Nothing in life is to be feared, it is only to be understood. Now is the time to understand more, so that we may fear less." - Marie Curie