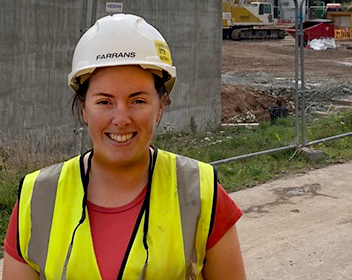 I am responsible for a portion of a construction project. For example, on my last project I was responsible for the construction & installation of a 256T linkspan bridge, a floating pontoon upper deck structure, maintenace upgrade works to existing infrastructure on the project. I am responsible for managing a team to get the work done. I contribute to the planning of the works, I manage subcontractors, order materials, record progress & solve problems with the aim of getting the works completed safety, on time & on budget.
Why did you choose this field?
Whilst at school I only really enjoyed mathematics & technology/design. Once I was able to select my own subjects for AS/A Level I then began to enjoy school (a bit late!). I am from a rural background so I knew I wanted something which involved outside working, and I am very practical, so I didn't want to be inside all day. Civil engineering gave the best of both worlds, hard work, outside working and a lot of problem solving & planning.
What do you look at and think, "I wish younger me would have known this was possible"?
I achieved Chartered Status, so a Chartered Civil Engineer, Member of the Institution of Civil Engineers, in 2017. When beginning my journey I often thought this was out of sight, but with hard work & commitment anything can be achieved.
Why do you love working in STEM?
I love the challenges and the variety. Every day you are faced with new people to deal with, new problems to solve and new things to build!
Best advice for next generation?
It is not all dirty boots & mucky clothes. The rewarding feeling when you manage works successfully & see a project's completion is amazing. Do not be put off by gender, there is no engineering task a female engineer cannot do that a male engineer can do. Ignore the stereotypes, ignore the unconscious bias & work hard for what you want. Keep at it.
Inspo quote / fun fact / role model
"Whatever women do they must do twice as well as men to be thought half as good. Luckily, this is not difficult." Charlotte Whitton