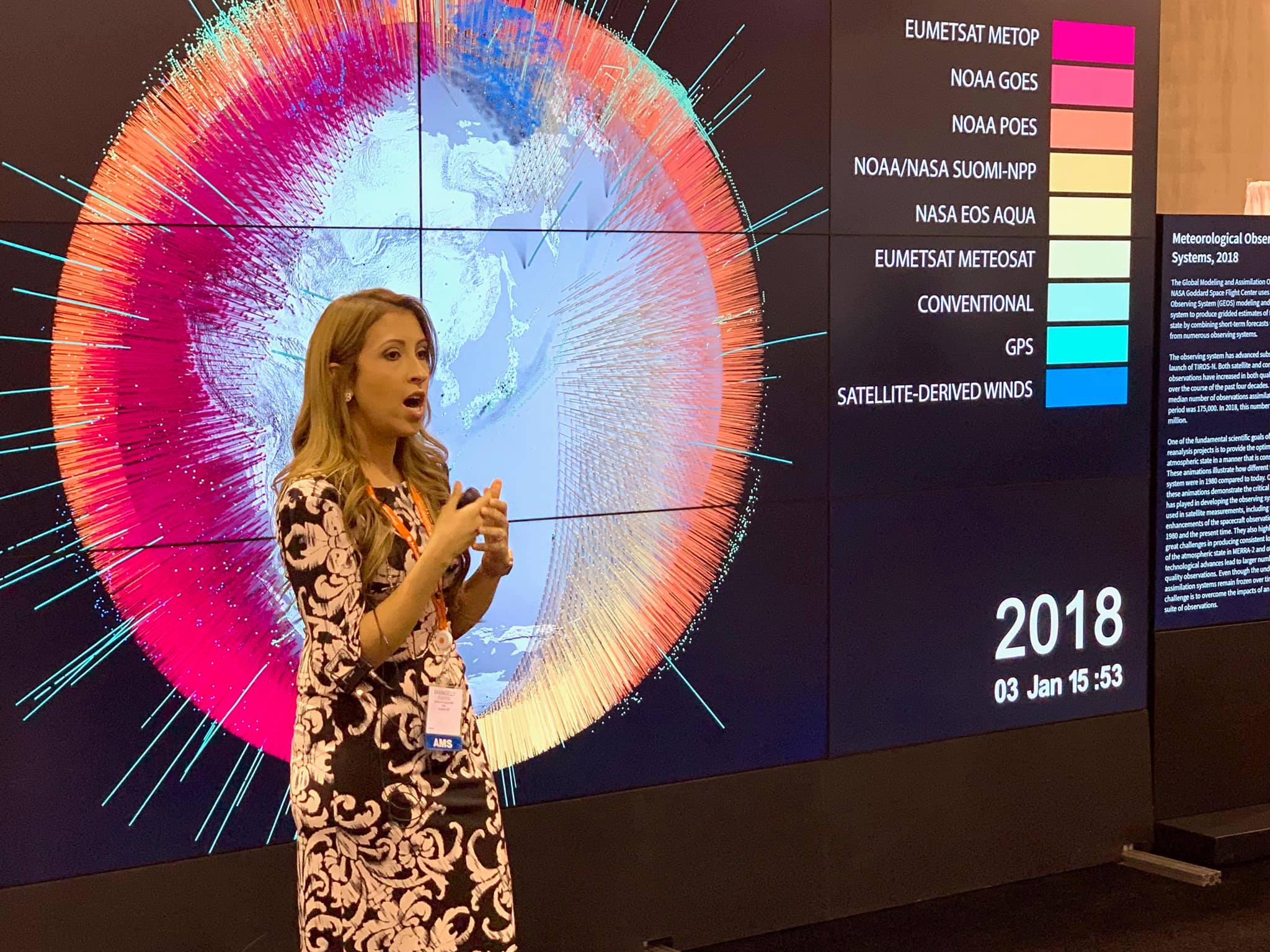 Marangelly Fuentes-Figueroa
Project Manager for the Hydrosphere, Biosphere, Geophysics (HBG) Support Services Contract at NASA Goddard Space Flight Center
And - Atmospheric Scientist
Never let anyone pressure you to pursue a different career and always be open to learn new skills.
As a Group Manager for HBG I oversee that the efforts of several tasks are completed according to contract requirements. Part of my job includes pricing efforts within the contract and creating task proposals, attending to the needs of the company employees within those tasks, overseeing the efforts of subcontractors for some of those government tasks, and leading those teams. My work as an Atmospheric Scientist at GMAO includes, leading the Monitoring and Validation team on our day to day activities, running some Goddard Earth Observing System (GEOS) data assimilation and modeling experiments, validating results from those experiments, and doing scientific research with the output of the GEOS model, specifically research related to Tropical Cyclones.
WHY DID YOU CHOOSE THIS FIELD?
On September 18, 1989 Hurricane Hugo, a category 3 hurricane at the time, impacted Puerto Rico. I was 8 years old. Hugo brought hurricane-force winds and heavy rain to Eastern Puerto Rico, causing extensive damage, including damage to my own home. We had no power and water for weeks, some people for months. The experience was devastating, but also eye-opening. While scary at times, being inside the force of a hurricane woke up curiosity in me. How do these natural disasters form?, why so powerful?, can it be stronger?, how can we alert people?, how does the wind make that noise?, why is it calmed and then it gets stronger? Those and many other questions crossed my mind through those scary hours. It fascinated me that we went into a shelter with everything outside being ok, and came out to total devastation. To be honest, I was very curious. After that experience I would not miss the weather forecast on TV. It became part of my daily routine. My family began to notice my interest and my Mom and Stepfather encouraged me to research more. It was then that I realized that I wanted to be a Hurricane expert, and so I did. That small town girl, from the mountains of Puerto Rico, was one day going to be a hurricane expert. With the encouragement of my parents, I worked hard to maintain a 4.0 GPA through middle and high school, so I could get into the Physics Department at University of Puerto Rico. At the time, there were no Meteorology Departments at any universities in the island, so becoming a physicist was my stepping stone. When I graduated with my BS in Theoretical Physics, I left my entire family in Puerto Rico and moved to Washington DC to pursue a PhD in Atmospheric Sciences at Howard University. Moving away was one of the hardest things I have ever done, but I was determined to finish that goal I set for myself when I was 8 years old. My family never stopped cheering me on. In 2009, I graduated with a Doctoral Degree in Atmospheric Sciences, specializing in Tropical Meteorology. I, that small town girl that grew up with not much, followed her dream and accomplished it. There were many hurtles and setbacks on the way, but nothing was going to stop me. My mothers voice saying "I know you are capable of becoming Dr. Fuentes" was my fuel every step of the way.
WHAT DO YOU LOOK AT & THINK, "I WISH YOUNGER ME WOULD HAVE KNOWN THIS WAS POSSIBLE?"
I wish younger me would have known that graduation from Grad School, becoming Dr. Fuentes, and working for one of the most exciting agencies in the world, NASA, was possible. Not even in my wildest dreams I could see this, me hanging my doctoral degree diploma on my wall. Me, contributing with brilliant scientists every day at NASA. Me, teaching my two boys that anything you put your mind into is possible.
WHY DO YOU LOVE WORKING IN STEM?
STEM is an exciting field. There is something for everyone, you can work at labs, you can do science field research, you can build new things, or even deconstruct things to make them better, and you can even go out to space. How exciting is that?!?Everyday you get to work on the cutting edge. Everyday you wake up with the excitement that you might discover something new, that you are an innovator. Its an amazing field to be in.
BEST ADVICE FOR NEXT GENERATION?
Never let anyone pressure you to pursue a different career and always be open to learn new skills. On the way you will find many stereotype comments regarding how STEM is not for girls. Dont stop, with your passion, talents, curiosities, and set goals show them that you are more than a gender. Your drive will take you to the top. Regarding new skills, always be willing to learn whats new in your field. Things in STEM change rapidly, and in many cases the technology is so new that is hard to find people who know it, this will make you extremely valuable in the workforce. You will always be learning something new everyday in a STEM career. Is the best part of the job!
My mother always told me "Never regret the things you have done because you learned from them, always regret the ones you didnt dare to try."