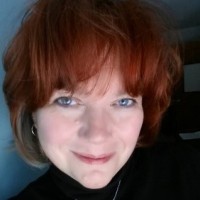 Software engineer and database admin with VAST
Don't be afraid to be wrong and admit it.
I program software to work the way end users need. We create custom software to help users be more productive in what they do.
WHY DID YOU CHOOSE THIS FIELD?
I decided to stay at home and raise my kids when I first got married and to make ends meet I did what I could to make money. I made cloth diapers back when the internet was a baby (2000) and realized I needed a website to sell my products but I had no money to invest, so I found tutorials on how to build a website.

I discovered I could figure this stuff out pretty easily, I learned all I could and was re-programming software built to run websites (like wordpress) and making things easier. I loved helping people figure out technology and found it engaging and interesting. I learned all I could online (which was growing quickly) and started doing websites and custom plugins for other work at home moms trying to make ends meet.

Once my kids were all in school I went back to college and got a degree in computer animation and simulation at a local community college because I wanted to be challenged in learning something I didn't know, knowing that any degree would get me in the door and I was a quick learner on my own.

It took a few years to really hit my stride and have the confidence that convinced me that I knew I could handle what was thrown my way. I was fired from a job (first for me), now I see it was for being too good, which was the best thing to ever happen to me. I used a recruiter to find the position I am in now and quickly went from small time development locally to large world wide software development. I love it, this company values ability and willingness to speak up and adjust. Being able to work with peers that are as smart or smarter than me is the best ever, not being judged for being a girl in a mostly male field is also amazing. Never settle for being the smartest person in the room. Find a new room.
WHAT DO YOU LOOK AT & THINK, "I WISH YOUNGER ME WOULD HAVE KNOWN THIS WAS POSSIBLE?"
Branching out and reaching for the stars. In software development your location doesn't have to be something that holds you back, there are lots of remote jobs you can take and have it all. I live in small town Michigan and have all the advantages of big city jobs with remote work.

Don't let people tell you that you can't do more or be more, you don't have to pick kids OR a great job, you can do both. I wish I had known that earlier in life, I do not regret raising my kids, but if I had realized I could leverage my abilities on a global scale earlier I wouldn't have wasted so many year being undervalued and taken advantage of because of my gender and location.
WHY DO YOU LOVE WORKING IN STEM?
I love the challenge, I love stunning people with ideas and being encouraged to speak up (even if I am wrong). I love the variety my job offers, the many cultures around the world we are exposed to as well as the global acceptance that I am an equal.
BEST ADVICE FOR NEXT GENERATION?
Don't be afraid to be wrong and admit it. I know for a long while I struggled with imposter syndrome and I think this affects girls more than it does boys (or at least externally girls let it shut them up more frequently). Don't be afraid to speak up and ask 'what if', even if you feel like a small fish in a big pond, you may be a much bigger fish than you realize but if you never show them how you can swim you will never know.
"If you are always trying to be normal, you'll never know how amazing you can be." - Maya Angelou