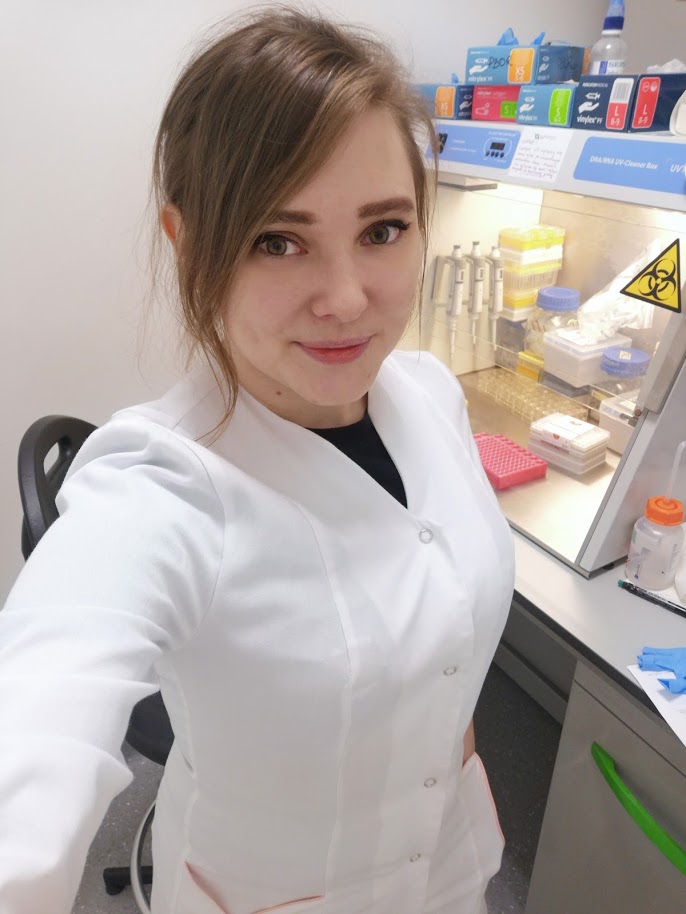 PhD student, University of Gdańsk
It's all about you, be true to yourself, pursue your own dreams, not the dreams of your family, friends, teachers.
I'm a researcher, a microbiologist/molecular biologist trying to find out what are the compounds responsible for antimicrobial activity of a certain biocontrol bacterium against plant pathogens.
WHY DID YOU CHOOSE THIS FIELD?
I got to study biotechnology by a pure accident - I missed 3 points (out of 200) in recruitment to start studying medicine. Biotechnology was my second choice, as something related to medicine and I loved biology per se. Medical studies was something that my family wanted for me, even made me think that I want it.
Now I think these 3 points saved my life - I can't imagine myself as a physician, but I love working in the laboratory. The laboratory was something that made me change my mind about giving the recruitment for medical studies a second chance. I had a privilege to isolate my own DNA during the first 2 months of my studies at the biotechnology faculty. When I saw what I did, I observed the band of my DNA on the agarose gel, I knew it was what I wanted to do. To see the unseen, discover undiscovered. This was the exact moment I remember to this day when I said to myself "I'm going to be a biotechnologist". Today I'm more specific in stating my profession - I'm a microbiologist, I deal with bacteria and I'm a molecular biologist, I work with DNA, RNA and genetic engineering.
WHAT DO YOU LOOK AT & THINK, "I WISH YOUNGER ME WOULD HAVE KNOWN THIS WAS POSSIBLE?"
Finding joy in my work. As a kid, I had this mindset that work is something you do out of necessity and you have to hate it. But I love my bacteria, my nucleic acids, every experiment, even the failed ones, which taught me a lot. There's a lot of things beyond science in my job, like bureaucracy or certain academic values, which I do hate. But the essence of it is giving me a lot of joy.
WHY DO YOU LOVE WORKING IN STEM?
I think my previous reply answers this a little :)
I love the joys of a working experiment, the days when I walk into the lab and go running to the incubator to see if my transformation was a success. I also love teaching - as a PhD students we have to teach undergrads and it's an amazing thing. I love sharing the joys of the lab with them, seeing the enthusiasm when something works, replying their questions when they're curious.
BEST ADVICE FOR NEXT GENERATION?
Don't listen to other people. They don't know what is best for you and what you'll feel good with. They know what THEY would feel good with. It's all about you, be true to yourself, pursue your own dreams, not the dreams of your family, friends, teachers.
"I guess you could call it a "failure", but I prefer the term "learning experience"." - Andy Weir, "The Martian"