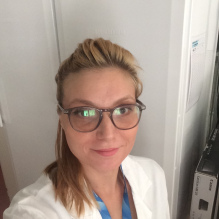 I develop and apply methods to asses food quality and authenticity.
Why did you choose this field?
I love food and I love to know what I am eating. I think it is really simple to adulterate food and consumers trust the labels and the producers. It is important for everyone if we can find methods to check producers' claims.
What do you look at and think, "I wish younger me would have known this was possible"?
Finish a PhD (I dropped out my first one). Survive a divorce. Having a child during a PhD. Being happy with my life.
Why do you love working in STEM?
I love science and math. I love wearing a lab coat. I love the fact that I am "strange", "nerd" and wearing glasses. I love to perform experiment and analyze data.
Best advice for next generation?
Do it! Be yourself! Do you love science/math/physics/chemistry? Good for you. Be the scientist you want to be. Be the role model that you didn't have.
Inspo quote / fun fact / role model
"Be the change you want to see in the world"