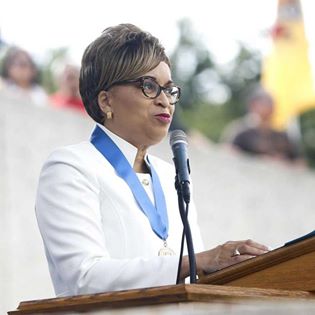 Founder and Executive Director of the first U.S. Women Veterans Business Center
The mission of the Women Veterans Business Center is my primary job. The Center's mission is to "educate and empower Women Veterans (and Military Families) to start and grow professional careers and "wealth generating" Veteran-Owned Businesses.
WHY DID YOU CHOOSE THIS FIELD?
I chose a career in science, specifically in healthcare because I wanted to have a "touch point" wherein I could connect with all types of people everywhere. I am a Nurse. I can (and have) worked throughout the world, healing people. I was a Missionary in Haiti and worked in a field Army Hospital in Saudi Arabia. I healed people in the shanty towns outside of Cape Town (South Africa) and in remote villages outside of Beijing (China). A Science education is a global education. I am also a Technologist. I knew I had to combine the two fields because Technology allows me to heal people exponentially. With increasing Telemedicine adoption, many who could not access care, now can!
WHAT DO YOU LOOK AT & THINK, "I WISH YOUNGER ME WOULD HAVE KNOWN THIS WAS POSSIBLE?"
I have physically travelled to only five (5) continents. But I have met and helped thousands of people through my work and my travels on every continent through using technology. I wish I knew earlier in my life that through using technology, I could positively affect peoples lives around the world. Technology gave me the means to provide the gift of healing to others. Even to those in places in the world I have never and may never go to.
WHY DO YOU LOVE WORKING IN STEM?
I love the fact that when I open my eyes every day, with what I know inside my brain (and my heart), I can help people on every continent. My science background affords me knowledge of how the brain and body works. I know about disease states and medications and treatments. My technology background affords me the knowledge of how we are all connected via technology. I know how to connect, monitor and protect networks and the most private information of the people that use these networks around the globe. I wake up "Powerful" everyday!
BEST ADVICE FOR NEXT GENERATION?
"Just Do IT! Try STEM!" I waited until I was over 50 to dive into Technology. Do Not Wait! Start Today! The world needs ALL you bring to Technology to solve problems and improve the quality of life of people around the globe.
"To whom much is given, much is expected!"