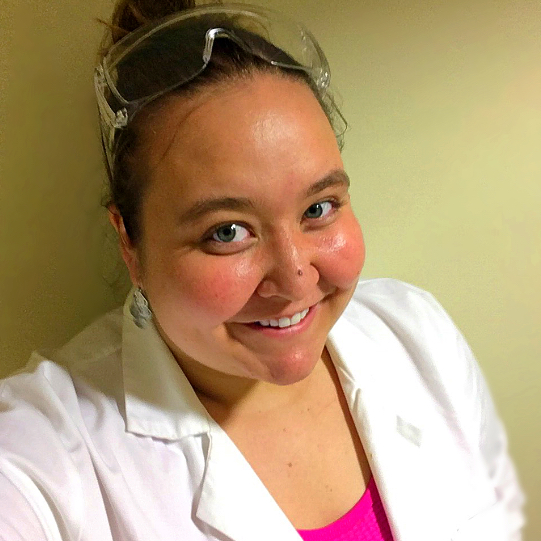 Research assistant and graduate student at Baylor University
Pursue your interests and keep doing what inspires you.
I work in a research lab studying the mechanics of DNA replication and repair in bacteria. I work with the helicase protein, called DnaB, which is responsible for opening the DNA duplex and acts as an organizational hub (a sort of home base) for the rest of the replisome proteins. I want to understand how and why DNA mutations can occur and how the helicase plays a role in helping maintain stable genomes.
WHY DID YOU CHOOSE THIS FIELD?
I was always interested in understanding the "why" behind things I saw. I was an avid reader and experimentor as a child - once when I was 6 I left chocolate in a glass of milk in the sun to see if it would make chocolate milk. I even had milk only and chocolate only controls! Needless to say it just made sour milk...but I learned that it is valuable to test and explore your surroundings even when the results are different than expected. I had parents who encouraged this behavior and wanted me to explore my interests. I was always interested in fermented foods (cheese, yogurt, etc.) and how microbes and chemical reactions could change and transform food. So I became a biochemist/microbiologist! I had really great professors in college who, like my parents, encouraged me and gave me opportunities to do research and explore the world. My research advisor was a woman who had worked at the NIH studying proteomics and how DNA expression can change with environment. She along with others helped spur my love of understanding the world through chemistry. There are many other faculty I could mention who answered questions and encouraged my academic pursuits. I would not be in STEM today if not for many great teachers.
WHAT DO YOU LOOK AT & THINK, "I WISH YOUNGER ME WOULD HAVE KNOWN THIS WAS POSSIBLE?"
While there is much more I hope to accomplish, My proudest moments are when I get to share my research with an outside audience. I was terrified when I was younger of giving speeches; I thought I had nothing valuable to say, and would not say it well. But now I seek out opportunities to share my work, and have even joined an organization that presents in classrooms. The first time I gave a research talk to my department the primary feeling was one of joy and excitement. Yes, I still have nerves, but every time I share my work I am excited because I am teaching the audience a new thing that I discovered. It will be a long time before the work I do can have any impact in the medical world, but every time I share my work has impact - it may inspire, spark new ideas, and encourage collaboration and discussion.
WHY DO YOU LOVE WORKING IN STEM?
I love that each day there is the chance to learn something new. Tomorrow, when I look through the microscope, I may see something new. For a few hours, as I collect data and analyze my results, I might be the first and only person in the world to know something. And that's exciting! I also love learning how everything fits together 'just so' to make the world work. It's a fascinating and exhilarating puzzle.
BEST ADVICE FOR NEXT GENERATION?
Pursue your interests and keep doing what inspires you. I didn't know I would end up in graduate school studying DNA when I was in high school taking cooking classes and learning about food chemistry, but I kept learning and doing things I enjoyed. You don't have to know exactly what you are doing or where you are going; as long as you are inspired and enjoying what you are learning keep going. First: Give yourself the option to explore what science and research look like in different fields. I only decided to go to graduate school after a summer internship doing research. Second ask questions! I learned so much from spending time listening to those who had different experiences in STEM.
"Don't let great ambitions overshadow small success" -proverb

my coworker has this taped above his work station and I look at it often. Research is a collection of sometimes frustratingly small steps that will over time lead to bigger accomplishments. Be patient and value the work you did today.