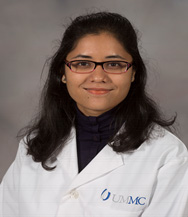 Graduate student; University of Mississippi Medical Center
I am doing my Ph.D. in Biomedical materials science. Its actually a broad field that involves mostly designing and fabrication of materials used for medical applications. My specific field of work is design optimization of dental implants that mostly involves 3D modeling using CAD/CAM technology, finite element analysis and statistical analysis.
WHY DID YOU CHOOSE THIS FIELD?
Right from my childhood my academic performance in science and mathematics was good. My family is all composed of doctors and engineers, and somehow, both the fields ignited my curiosity. And my fate chose to fulfill this interest of mine when I pursued Biomedical engineering at National Institute of Technology, Rourkela, which is a reputed institution in India. During these 4 years of ungergrad, I explored various fields that was offered by my branch by delving deeper into their areas of research. Among them, the field of materials science fascinated me greatly. That's when I decided to pursue materials science for my higher studies.
WHAT DO YOU LOOK AT & THINK, "I WISH YOUNGER ME WOULD HAVE KNOWN THIS WAS POSSIBLE?"
Back during school days, I used to underestimate myself a lot. There were several instances in which I thought myself to be lesser in mental capacity than other kids around me, and many a time I would give up on things I would want to do, thinking that I am not good enough. It was later when I went to college that I realized that's not true. I tried to bring in confidence within myself and that changed a lot in my way of thinking and performance. I won academic excellence awards, participated in a bunch of extra-curricular activities, organized and conducted social events, interacted with so many people, and so on, which, once upon a time, I thought was impossible from my end.
If I would be given a chance to go back in time, I would just say one thing to my younger self: 'Unleash your potential, the sky is the limit. You are much more than what you think you are.'
WHY DO YOU LOVE WORKING IN STEM?
In my opinion, every branch has its own positive contribution to the society. STEM is fascinating because this field has allowed the transition from primitive beings to modern man. It has brought about a new world and this field has allowed man to explore numerous facts about the existence of everything that we see around us. It has made our lives so much more comfortable, and has also allowed us to live long enough to see this ongoing process of change and development. Working in STEM makes me think that every single thing that we do here, no matter how insignificant that might seem to the outside world, it will definitely have a positive impact on the society in some way or the other. It is a proof of how the quest for knowledge is unlimited, and how we as humans keep on using the best of our capability to answer every question that intrigues our mind. I look forward to what the future beholds for us. There are things which seem impossible for now. But given the extent of human capability, I'm sure one day those things would be the new normal in the future world.
BEST ADVICE FOR NEXT GENERATION?
We as women are gifted with the power of understanding and patience. And to be a part of STEM, that's two of the most essential things you need. From Marie Curie to Kalpana Chawla, from Katherine Johnson to Katie Bouman, there are hundreds of women who have chose this field and received world-wide recognition for their significant contribution. You are no less. You are the future.
Always remember that development knows no gender. You've got to believe in yourself. No matter what people say, no matter what the traditions have been and no matter what the society wants you to do. All that matters is what you want to do and how you work your way out to achieve your goal. Don't ever let anyone tell you that you can't do something. You've gotta dream, and you've gotta make it happen.
Act, act in the living present; heart within and God overhead.