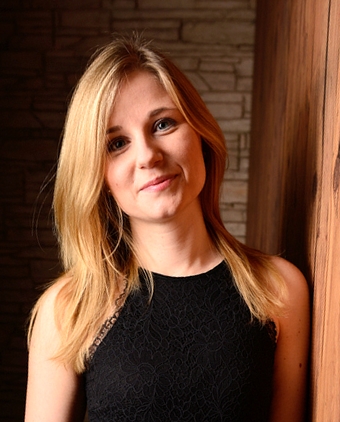 Consultant Water /Environment, Fugro Germany Land GmbH
Never doubt yourself; there is no reason to question your abilities.
My job is to make sure the environment stays or becomes clean. As an environmental consultant, I analyze the chemistry and transport of contaminants in surface water, groundwater, soil and soil vapour which originate for example from former industrial sites. The main focus is to manage the clean-up or lower the risk of those contaminated sites.
WHY DID YOU CHOOSE THIS FIELD?
I always had a fascination for the beauty of water in all its appearances – lakes, rivers, oceans – and just loved every chance of exploring nature. When I found out that water/hydrology was something you can actually study, I informed myself and did an internship at the Department of Hydrology in my hometown during my last year at school. The woman who was my supervisor was very passionate about her profession as a hydrologist. Her enthusiasm combined with my own interest in the water and environmental fields lead me to pursue a career in hydrology and hydrogeology.
WHAT DO YOU LOOK AT & THINK, "I WISH YOUNGER ME WOULD HAVE KNOWN THIS WAS POSSIBLE?"
I wish I would have started to think outside the box earlier. We are all so caught up in our daily routine. During my school days, I was so focused on excelling in my studies that I barely invested time into other activities, may it be an association, volunteering work or pursuing a new field of interest. Not having the time is not an excuse; it's rather how we set our priorities, and that is something one needs to learn.
I took the step to break out of this "routine" after my B.Sc. degree and went abroad. I organized an internship with the University of British Columbia in Vancouver, BC, Canada all by myself. Those six months of internship became three years of life-changing experiences in Vancouver, where I also wrote my master's thesis and worked for 1.5 years in an environmental company.
I am happy to have left my comfort zone to explore something new, to broaden my horizon and to get to know myself better. With increasing concern about environmental issues, I started to volunteer and network with like-minded people in Vancouver and I continue to do so even now, back in Germany. I think younger me would have enjoyed this great feeling of accomplishment as well, when doing volunteering work or something outside the box.
WHY DO YOU LOVE WORKING IN STEM?
Hydrogeology is a diverse field with complex tasks. It is a mix of working in the office and going to the field and getting your hands dirty. You need to work closely together with other experts as well to grow and gain more expertise. Being a member of a team of professionals plays a big role and this is a part I really enjoy on top of the technical content and challenges of my work. The combination of different scientific and engineering backgrounds is extremely interesting and you will always learn something new which I find fulfilling. The learning process is never completed - if you want to excel and become a true professional, learning is part of your entire life. On top of this, part of my job is to clean up contaminated sites or at least make sure that the negative effects of contaminants on soil, groundwater, surface water, humans and animals remain minimal. To me there's nothing more fulfilling in my professional life.
BEST ADVICE FOR NEXT GENERATION?
Never doubt yourself; there is no reason to question your abilities. If you really want to achieve something that is important to you, learn your stuff, be confident in applying your knowledge and go for it!
You can't change the world all alone, but you can find like-minded people who care about the same issues as you, so find your path and connect with those people.
"Remember to look up at the stars and not down at your feet. Try to make sense of what you see and wonder about what makes the universe exist. Be curious. And however difficult life may seem, there is always something you can do and succeed at.
It matters that you don't just give up." (Stephen Hawking)