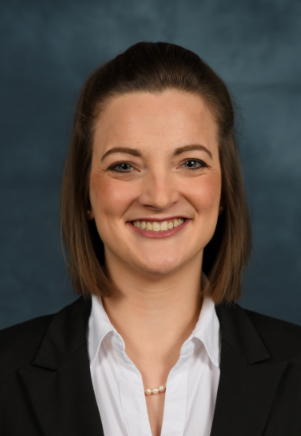 Product Engineer at Parker Hannifin
Keep going. Keep asking for help. You will persevere.
When describing my job as a product engineer of accumulators, I design pressure vessels for hydraulic systems that need energy stored, shocks absorbed, or pulsations dampened. All of these are applications found in oil and gas, construction, agriculture, mining, and military segments. I help create a better tomorrow.
WHY DID YOU CHOOSE THIS FIELD?
I chose the field of hydraulics because hydraulics are essential. Hydraulics are found in amusement parks, transportation, and manufacturing. I wanted to be a part of a technology that would be around for a long time.

This opportunity was one I was not originally seeking when it came to seeking full time employment. I wanted to work for a large company where I could move and grow and evolve into a leader I could look into the mirror and be proud of. I have found you can be leader anywhere so long as you have the right mentors supporting you along the way.
WHAT DO YOU LOOK AT & THINK, "I WISH YOUNGER ME WOULD HAVE KNOWN THIS WAS POSSIBLE?"
I was challenged early in my career to learn a new design software that I had zero experience in. I went to training, worked hard, and asked many questions. Younger me would have been frightened with this opportunity and thought "Someone else can do this. This is too hard and causes me too much anxiety." Now, I design pressure vessels that go into hundreds of pieces of equipment. New technology will continue to present itself in our lives. Embrace it; don't push it.
WHY DO YOU LOVE WORKING IN STEM?
I love working in STEM because I help improve the lives of others. I improve the experience of farming and mining by making farmers and miners rides more smooth. I improve the lives of those who work on oil rigs by preventing blowouts of hydraulic fluid. I wake up and look forward to helping others, even if they don't know it.
BEST ADVICE FOR NEXT GENERATION?
Never give up! There will be times you question yourself saying "Why am I doing this?" "This engineering class is too hard!" "Someone else is more natural at this and can probably do a better job than me." Keep going. Keep asking for help. You will persevere.
"Science is not a boy's game, it's not a girl's game. It's everyone's game. It's about where we are and where we're going." by Nichelle Nichols