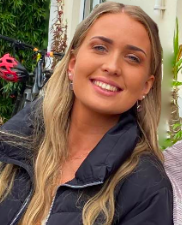 Civil, Structural and Environmental Undergraduate engineer in Trinity College
You can do it, the world needs many minds.
I tend to tell people its everything, It made the home they live in, the oven they use to cook their food, the car they use to drive to school and work with the radio in their care that engineers made as they drive over the bridge more engineers made, the supermarkets they shop in etc. They keep the world going
WHY DID YOU CHOOSE THIS FIELD?
No, my whole life i was going to be an engineer. I guess when i lived in Dubai it was solidified for me. I actually got scared, thought i wasn't good enough for engineering and did computer science in TCD for a year and knew my passion was waiting for me and changed to engineering, but my time is CS has helped me to be an even better engineer for two reasons, 1. I know its my passion and i work super hard and 2.I gained so much extra knowledge that comes in handy in engineering
WHAT DO YOU LOOK AT & THINK, "I WISH YOUNGER ME WOULD HAVE KNOWN THIS WAS POSSIBLE?"
That I would receive a scholarship for college
WHY DO YOU LOVE WORKING IN STEM?
I actually love being able to do things thats considered for 'boys', like coding robots etc. Feels so great to be like "yes i can do that too, i am just as smart as a boy". i like fighting the mould that engineering is a boy thing.
BEST ADVICE FOR NEXT GENERATION?
YOU CAN DO IT, the world needs many minds, all types of minds running it, it cant just be all boys.
"You can learn more from your failure than your success" - I am super super hard on myself, if i do one small thing wrong or get 69% not 71%, i kick myself over it for days. I am learning mistakes are good; they are learning experiences.