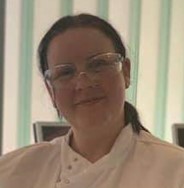 Bioarchaeologist PhD Candidate, The University of Glasgow
Open your mind to the possibilities that are before you.
My research is focused on designing a novel protocol for extracting and identifying ancient disease, specifically the plague, from reservoirs contained in sub-fossil vectors recovered from the Viking period. I then designed mathematical models to better inform our understanding of how detected disease affected individuals, day to day activities and Viking society as a whole.
WHY DID YOU CHOOSE THIS FIELD?
I am very fortunate in that I have been able to combine two fields that I have held a long-term interest in since childhood. I gained my honours degree and a PG degree in the Biological Sciences (Zoology, Marine Biology & Freshwater Biology) having specialized in molecular genetics and epidemiology. I then crossed over to Archaeology undertaking my MLitt in Viking and Celtic Archaeology before commencing my PhD which combined all my skillsets. I realised early on that I could positively contribute to Archaeology by accessing information that could only be unlocked through using biological techniques and technologies. As this is an emerging field there aren't many female representatives - I hope this will change in the future!
WHAT DO YOU LOOK AT & THINK, "I WISH YOUNGER ME WOULD HAVE KNOWN THIS WAS POSSIBLE?"
The ability to be transdisciplinary and to transcend other peoples boundaries and limitations. Teaching and inspiring students at the University of Glasgow has also been a great joy
WHY DO YOU LOVE WORKING IN STEM?
The pursuit of knowledge and the infinite possibilities contained therein is what inspires me. I love the challenge of making the impossible possible!
BEST ADVICE FOR NEXT GENERATION?
Open your mind to the possibilities that are before you, work hard and find yourself a good mentor!
"Imagine you're on your deathbed-and standing around your bed are the ghosts representing your unfilled potential. The ghosts of the ideas you never acted on. The ghosts of the talents you didn't use. And they're standing around your bed. Angry. Disappointed. Upset. 'We came to you because you could have brought us to life' they say. 'And now we go to the grave together' So I ask you today: How many ghosts are going to be around your bed when your time comes? Use your talents, the world needs your talents." - Denzel Washington