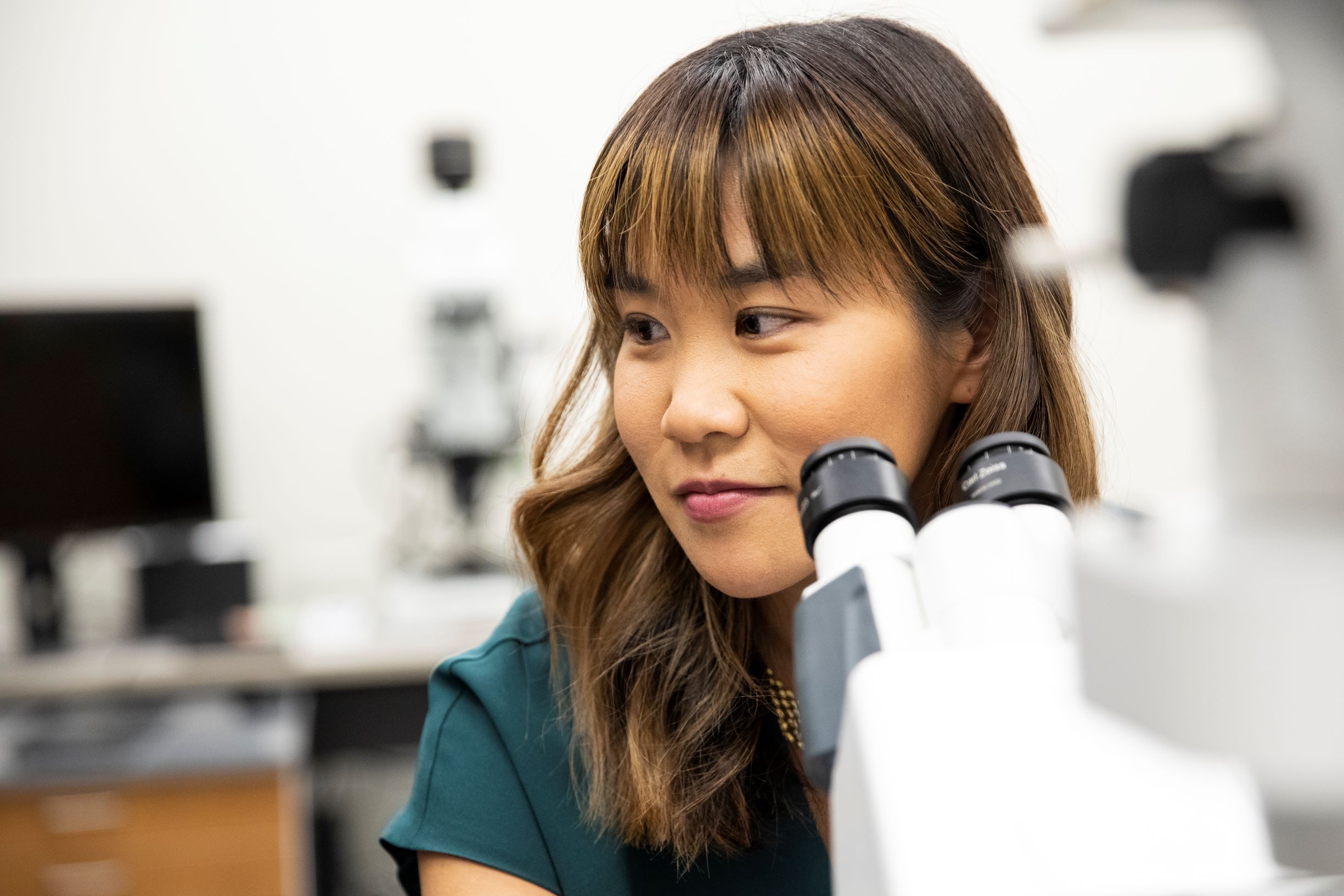 I collaborate with colleagues from across scientific disciplines to find the best way to apply new, powerful imaging techniques to a huge range of scientific questions. The lab I run has high tech microscopes that use innovative fluorescence microscopy imaging -- a special form of light imaging that gives us new ways of looking at biological processes. These images help us answer critical and previously intractable questions in biomedical science by allowing us to actually see biological processes happening in real time. I am engaged actively in a growing collaboration between researchers and computing specialists to design and disseminate efficient and productive full bioimaging pipelines for large imaging data sets to catalyze biological research findings.
Why did you choose this field?
I have always been fascinated by scientific images and seeing biological processes occur in real time. I love how much information is contained in any single image, and how you can return to an image much later and pull out new discoveries from its contents. The imaging field is constantly moving and pushing boundaries. I am amazed at how creative people are in this field, and how inclusive and supportive the field is to members from across different scientific backgrounds. It's a field where a project can include the contributions of theoretical physicists, physicians, and high school students, all working towards the same goal.

As I was choosing my PhD thesis lab, I realized thatall of my most memorable and exciting scientific moments had occurred while working at a microscope or analyzing data from microscopes. This included my first sleep-away summer camp experience after 6th grade, where I studied embryology and got to watch a sea urchin embryo become fertilized and start to divide. While the goals of the scientific projects I worked on have varied from fly wing development to how an immune cell identifies an HIV-1 viral particle, I have always been most passionate about actually seeing events occur with contextual timing and positional information, and then using that information to gain new insight into biological processes.
What do you look at and think, "I wish younger me would have known this was possible"?
I think that it's incredible how much more is now understood about how thought and motion occur. I think that younger me would have been fascinated to know that an amputee would be able to control a biomechanical hand with his thoughts.
Why do you love working in STEM?
For me, the best part of working in STEM/microscopy is that you collaborate with a wide range of people who approach problems completely differently. It's a field where a project can include the contributions of theoretical physicists, physicians, and high school students, all working towards the same goal. I love knowing that I will interact with and assist a broad range of scientific endeavors each day, and that I can count on a new project or idea coming into my facility on any given day.
Best advice for next generation?
To succeed, you have to understand that you don't personally have the expertise to solve the problems you will encounter, but you can reach innovative solutions by utilizing all the different skills that a broad network in STEM will give you.
Inspo quote / fun fact / role model
"We delight in the beauty of the butterfly, but rarely admit the changes it has gone through to achieve that beauty." - Maya Angelou