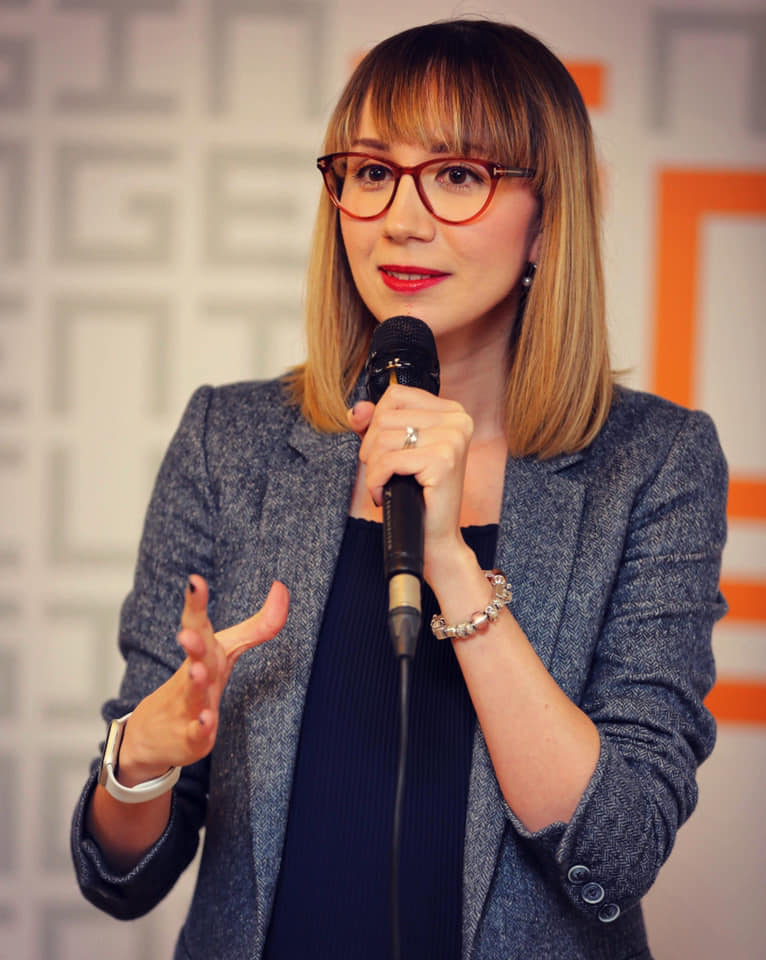 Co-founder and CEO of Small Academy
Your mindset is what can make a massive change and improvement in your life.
I wear so many hats. I'll try to pick some of those hats and share them with you. One of my main goals at Small Academy is leading the curriculum team who's researching and preparing all the activities we teach in class. This is an extensive activity and represents one of the main pillars at Small Academy, since everything we teach children is create by us, for all our educational programs (one-year long courses; specific educational programs – summer school programs; thematic programs - Children's Day). For us, it's very important to have in mind a hands-on approach for all activities, that helps us to shape children's mindset towards a global one, to be able to find and solve a real problem from the real world and generate an impact with their ideas. Everything we create it must have an impact in children's life.
Another important part of my job is the recruiting process. It is very important to have in our team people who love working with children, who empower them, who really care about their wellbeing more than just being their teacher, people who want and truly believe they can change the world (this is actually one of the questions in all our interviews).
Every year, for the summer program, one of our goals is to offer scholarships to children from underprivileged communities and families, so we partner with private companies who share our mission and values and together, we make this kind of education accessible to everyone. It is a joy for me to reach people in these companies and discover that beyond every job title or how big the company is, there is that someone who wants to change the status quo and make a difference.
And lastly, I think that what I love the most about what I do is when I get the chance to teach and be around children. This brings so much joy into my life, helps me stay connected to children and helps me reassess that we're really making an impact in children's life. This is what motivated me in the first place to create Small Academy, so I will have the opportunity to teach.
WHY DID YOU CHOOSE THIS FIELD?
When I was 12 years old, I've sent a letter to the Ministry of Education wanting to sue my Math teacher. At that time, I hated Math, everything seemed so complicated as she lacked the ability to make me and my colleagues understand it. Of course this wasn't the reason I sued her, but because she was poorly prepared and didn't seem to like what she was doing or have the skills and knowledge. So I wanted to make a change and get her out of my school. After months of waiting for an answer, I finally got it: one of those blunt and stiff answers, with no solution. So the wheel kept spinning…
After high school, I went to Journalism and Communication University and started working in different companies related to the digital environment. Nothing related to Math, as you can imagine.
When I was 22, I discovered my passion for teaching. Not Math, of course, but English. I thought it's going to be a huge test in my life to be a teacher, but I accepted the challenge. What started as an ordinary job that made me feel anxiety in the first weeks became my purpose in life. A lot of questions were in my head every day in the first weeks: Will I be patient enough? How am I going to manage a class full of kids? How do I keep them interested in what I teach them? Am I the right person to do this? After a few weeks, I felt from the bottom of my heart this is what I should do for the rest of my life, be around children and prepare them for the future. It took me 5 years to fully embrace this as my mission. I wanted to be the opposite of my Math teacher.
I believe a STEAM approach can engage students more and change education as we know it these days. STEAM stands for science, technology, engineering, art and mathematics. Put them together and what you get it's a new vision to the world, an approach that can change things for the better and finally make a difference.
My passion for teaching led me to create Small Academy, a STEAM education hub with technology, programming and robotics classes for 5 to 14 years old children.
WHAT DO YOU LOOK AT & THINK, "I WISH YOUNGER ME WOULD HAVE KNOWN THIS WAS POSSIBLE?"
In the summer of 2009, in my first year of college, I decided to change – without realizing this is what I was actually doing, that the perfect and idealistic image about life and I've embarked into a 3 months working and travel experience in the US. I was 19 y.o. That was one of the most empowering and life changing experiences in my life. I was 3 months away from home, from my family and friends, 3 months where I discovered how and why it helps me to step outside my comfort zone. The good part is that I was working in sales and had a 12 hours/ day job, so I didn't have too much time to think about all these.
That summer helped me understand that the only way to discover who you are, what you want to do and become in life, is to step outside your comfort zone, through constant experimentation. It took me many years to fully understand this.
WHY DO YOU LOVE WORKING IN STEM?
It's been proven that learning by doing it's a much more powerful experience, especially for children. This is why I love STEAM, this is why I use hands on activities in all our classes. Hands-on activities develop new skills, very important for nowadays and especially for the future and keep our children interested during a 2 hours class. As a teacher, I'm always on the lookout for ways to spice things up and motivate kids to be active participants in their own education, work together, as a team, through interconnected hands-on activities. STEAM is laying the foundation for the jobs of the future, a future where we have automated cars, where companies are using drone delivery systems, where we 3D print our houses and buildings and where we work hand in hand with robots. But what truly fills my heart with joy is that I can have an impact in a child's life, I can empower him to believe in himself, to speak up no matter what and find his voice, to see how beautiful is to share and collaborate, to think and make his own opinions and have a contribution in other people's life.
BEST ADVICE FOR NEXT GENERATION?
Your mindset is what can make a massive change and improvement in your life. If you believe you can't do something or you're not worthy of having something into your life, well, that will define your reality. Be bold and shape your mindset to achieve what makes your heart sing.
"Talk to yourself like you're your own best friend, your own best lover, your own best parent." (Marisa Peer)