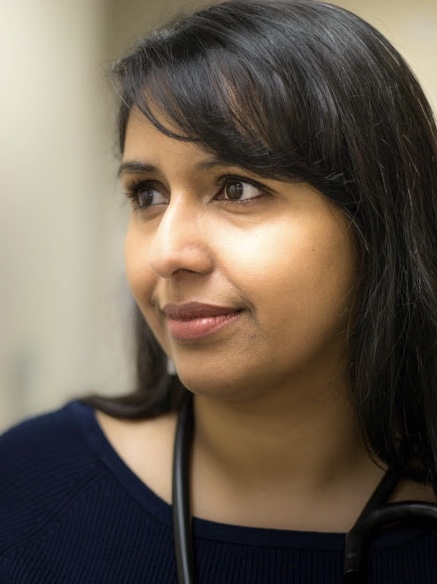 If someone says you can't do it, ask them, "why not?"
And then show them you can.
There are 3 parts to my career:
1. I'm a doctor. I provide family medicine care to the young and the old, doing everything from newborn care to end-of-life care and everything in between.
2. I'm a teacher. I train doctors-to-be. I also teach health policy — the study of how health care systems around the world work and don't work.
3. I'm a researcher. I study health economics and policy. I advise groups and government on how health care systems should be set up so that they do the job of taking care of patients.
WHY DID YOU CHOOSE THIS FIELD?
A very long time ago, a friend of my dad's told my dad, "she's a girl, she could never be a doctor."
My dad looked at his friend, he looked at me, and he asked, "why not?"
That was the first time I thought, "I'm going to be a doctor."
As I grew up and understood what doctors do, I realized there was no job I wanted more than to be a doctor. It let me combine the science of human physiology and disease processes with the art of caring for people. The decisions I make have changed people's lives, have even saved people's lives.
Medicine is hard work. I study a lot. I think about my patients a lot. I work a lot. But this job, being a doctor is so satisfying and beautiful.
WHAT DO YOU LOOK AT & THINK, "I WISH YOUNGER ME WOULD HAVE KNOWN THIS WAS POSSIBLE?"
I have so much fun being a doctor. You give your heart to people. And instead of being draining, it is very fulfilling, because people give their hearts back to you. The doctor-patient relationship lifts you up. There are days when I'm tired or sad because of something that happened at work. And then a patient will bring me a flower or a card or sometimes a cookie, just to show that they are thinking about me too, that they want me to know they care about me.
WHY DO YOU LOVE WORKING IN STEM?
The science of medicine is constantly evolving. I look forward to always being surprised every day. To being challenged every day. To solving tricky problems every day. To learning something new every single day. That is the beautiful thing about science — what you do today was just an idea, a dream, an experiment a few years ago. Who would have thought we can transplant hearts and kidneys? Who would have thought we would ever have a vaccine against cancer? Who would have thought we could grow tissue and organs, maybe even more, from stem cells? Who would have thought we could crowdsource information to help patients about a pandemic as it happened? The limits of science go only as far as your imagination.
BEST ADVICE FOR NEXT GENERATION?
If someone says you can't do it, ask them, "why not?"
And then show them you can.
I have two:
"Wherever the art of medicine is loved, there is also a love of humanity" — Hippocrates
"When I dare to be powerful, to use my strength in the service of my vision, then it becomes less and less important whether I am afraid." — Audre Lorde