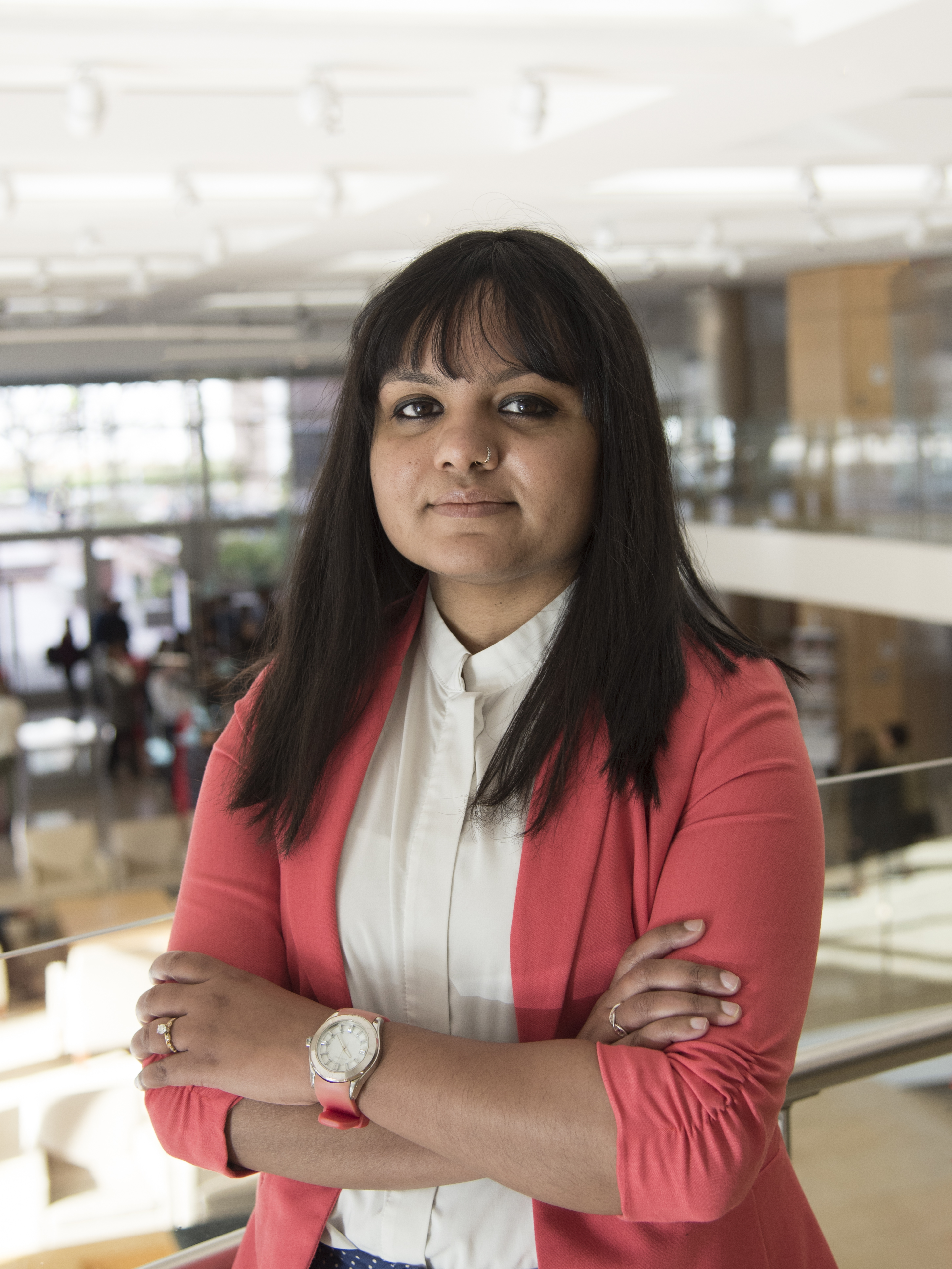 Science Communications Officer, Broad Institute of MIT and Harvard, Cambridge
There are no few, defined ways to find your space in a STEM career. Find your own unique path when the time comes.
I help translate complex biomedical research and science into understandable content for the general public. I write science news stories/blogs and work with multimedia producers in developing engaging videos and infographics. I also play a key role in a variety of public and community science engagement projects at my workplace, for example, building a science museum, hosting public lectures, and planning social media campaigns. Besides being a science communicator, I also co-lead an identity-based affinity group called Shades@Broad that advocates for racial diversity and equity in STEM.
WHY DID YOU CHOOSE THIS FIELD?
I was an avid science communicator starting from my undergraduate days. I always thought I will be a scientist who could also communicate well. During grad school, while I was getting my PhD in Environmental Toxicology, I co-founded multiple public science outreach programs and initiatives, in addition to running experiments in the lab and publishing scientific papers. My plan was to go work as a scientist in industry/consulting after I graduate. However, during this time in grad school, I came across a variety of career mentors who were doing incredible work as university/nonprofit leaders. I thought to myself, wow, I could be that someday. During one of my conversations with a senior leader at my university, I mentioned my plan and aspirations of getting industry experience and coming back to work in university/research nonprofit leadership after 10-15 years. They asked me, "Why do you want to be late to the game?" That was a reality check for me. I immediately changed my job search strategy and started looking for job opportunities that would allow me to start using my other non-lab skills immediately. I knew science communication and public engagement in science would get me onto this path. My doctoral training definitely helped define my voice and knowledge as a scientist. My additional skills in communication, outreach, project management, and leadership helped me scope out my career path. I think scientists need to find a seat at the table in more than a few places. We need to be in newsrooms, boardrooms, senate, and beyond. As a scientist myself, I am definitely doing that and hopefully will inspire more scientists to think in those lines as well.
WHAT DO YOU LOOK AT & THINK, "I WISH YOUNGER ME WOULD HAVE KNOWN THIS WAS POSSIBLE?"
Growing up I loved science, creative writing, art, and public speaking. I always thought I would grow up to be a doctor or a scientist and use my other skills as a hobby on the side. I wish the younger me would know that one day I could have a job that used a combination of all those interests. To my younger self and other young people I will say, "Your ideal job description may not exist, just yet." Back then "science communications officer" was not a familiar career path and I am confident it didn't even exist in most places. So stay hopeful, stay curious, and think out of the box.
WHY DO YOU LOVE WORKING IN STEM?
A career in STEM can instill a deep sense of purpose in yourself. Irrespective of the role you have in a STEM job, you know you get to make a difference. You either get to impact human health, environmental health, or technology in your own way. I once heard that a janitorial staff at our institute said, "I work for an institute that is helping cure cancer and many diseases." That really stuck with me. Every day I look forward to the variety of ways I impact the general public's understanding of complex biomedical research and help foster their appreciation for science. As scientists, it is our duty to help build trust in our field and also inspire the next generation of scientists.
BEST ADVICE FOR NEXT GENERATION?
There are no few, defined ways to find your space in a STEM career. There are hundreds or thousands of ways you can. Many of those paths don't even exist yet. Besides working hard, I definitely suggest staying curious and asking many questions. Don't downplay your creative side. There is a lot of room in STEM careers for extremely creative people. Talk to as many people in STEM careers as you can. Find your own unique path when the time comes.
"If you are successful, it is because somewhere, sometime, someone gave you a life or an idea that started you in the right direction. Remember also that you are indebted to life until you help some less fortunate person, just as you were helped." - Melinda Gates