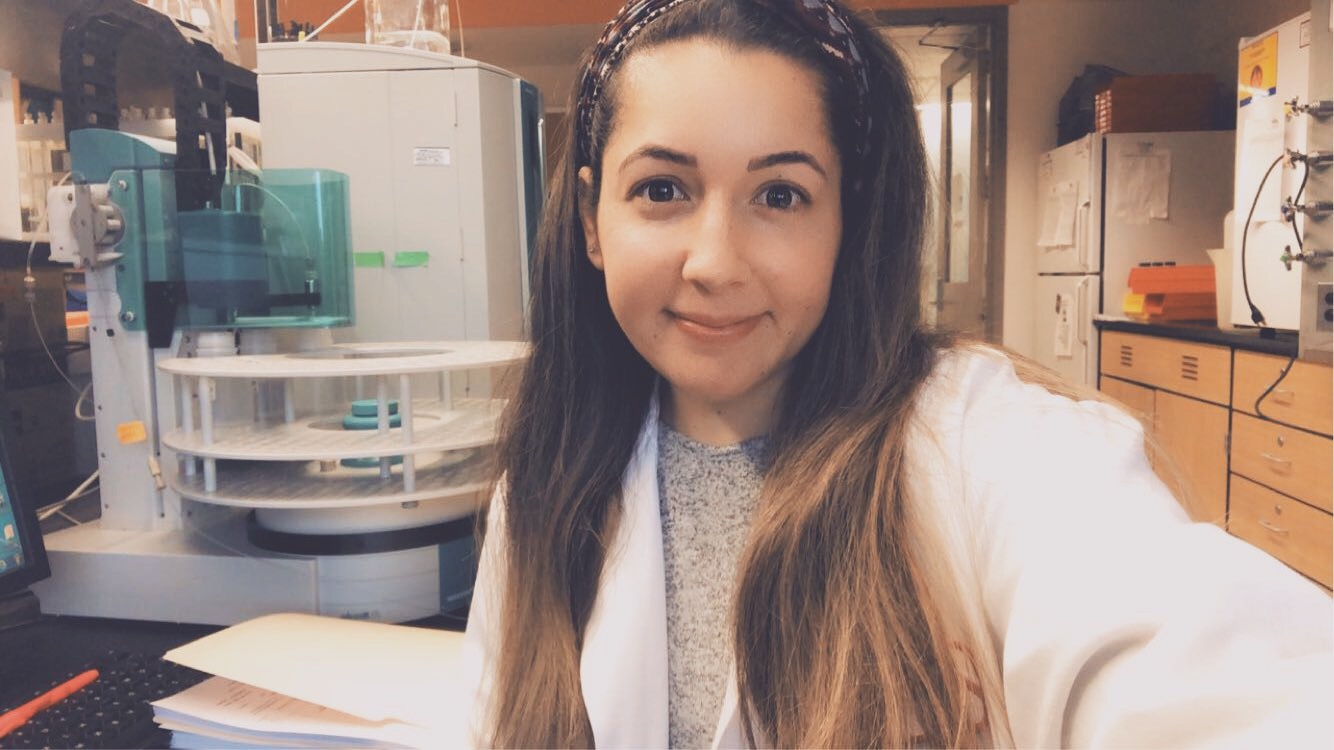 MS Chemistry Candidate, Long Island University
And - Chemist, Suffolk County Public and Environmental Health Laboratory
I focus on methods for emerging contaminants in drinking water, specifically the analytical methods for 1,4-dioxane and hexavalent chromium.

My individual research focuses on combining experimental work with that of olfaction theory in essential oils. I am interested in the difference between natural essential oil versus adulterated one. One way to understand is to investigate physically any detection differences in GC/MS separations; another is the olfaction theory.
WHY DID YOU CHOOSE THIS FIELD?
Growing up school was never a priority for me, I focused more on lacrosse and what the next step in that was. My decision for university was primarily to play lacrosse as well, but as I started to look ahead and think about what I would be doing after obtaining my degree, I had realized I did not want to go into work and dread it. Chemistry lab was the one class I would look forward to, I enjoyed writing up lab reports and visualizing the theories learned in class.
WHAT DO YOU LOOK AT & THINK, "I WISH YOUNGER ME WOULD HAVE KNOWN THIS WAS POSSIBLE?"
Graduate school. I would not have ever imagined going into my final semester perusing an MS in Chemistry. I wish I had more drive and faith in myself earlier on and truly believed that I can do it. We grow up in a society where we think you have to master a certain task or skill to be able to achieve a higher level, when ultimately you just need motivation in yourself and to keep that momentum going.
WHY DO YOU LOVE WORKING IN STEM?
Discovering new things. STEM is continuously evolving in whichever field one specializes in. I love going into the lab and learning to troubleshoot a new instrument or ways to improve to efficiency in our day to day tasks.
BEST ADVICE FOR NEXT GENERATION?
Be brave. Something that is taught in the ways girls are brought up is this need to be perfect, but we're never taught to be brave. That distinction is really important. It's important to understand that if you want to do something that you truly enjoy and you practice, you will get better.
"Doubt kills more dreams than failure ever will." -Suzy Kassem