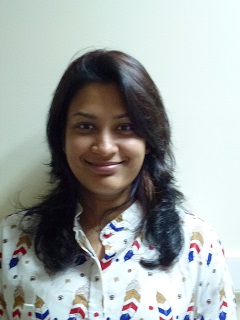 Narmada Nadeeshani Karannagoda
PhD student at the University of Melbourne School of Ecosystem and
Forest Sciences
Working in STEM is challenging, but if you have that passion inside you, you will love every minute of it.
I am a member of the Forest Molecular Biology and Genetics group. My PhD project investigates the transcriptional regulation of wood formation with an aim to understand the role of a selected set of transcription factors during different stages of wood formation in ecologically and economically important Eucalyptus and Populus forest tree species. This work not only improves our current understanding of how wood formation is regulated at the molecular level, but it also sheds light into how perturbations of these transcription factors can be employed in tree improvement programs.
WHY DID YOU CHOOSE THIS FIELD?
Ever since I started learning science, the cells and genetic material, always fascinated me. I think that interest lead me to pursue my undergraduate and then my doctoral studies in molecular biology and biotechnology.
WHAT DO YOU LOOK AT & THINK, "I WISH YOUNGER ME WOULD HAVE KNOWN THIS WAS POSSIBLE?"
Younger me used to think that the opportunities in this field are very limited, so it would have been better if I knew more about the opportunities that are out there and that it is not impossible to pursue them. I also wish I knew more about the multidisciplinary nature of science so I could have improved some of the skills at the early stages.
WHY DO YOU LOVE WORKING IN STEM?
STEM fields update rapidly and are limitless. The more you work in STEM, the more you realise how little you know compared to what you do not know. I think these endless opportunities in STEM and how they can contribute to tackling global issues are the reasons why I love working in STEM.
BEST ADVICE FOR NEXT GENERATION?
Working in STEM is challenging, but if you have that passion inside you, you will love every minute of it.
It is important to try to have a mindset that accepts failures because the truth is that there will be some failures and moments of disappointment. But if you look at the bigger picture, at the end of the day you are learning something new, and at the end of your journey, you will contribute to the world by finding something that no one else knew before. Do not be afraid to push yourself and to challenge yourself. You got this girl!
It always seems impossible until it's done ~ Nelson Mandela ~