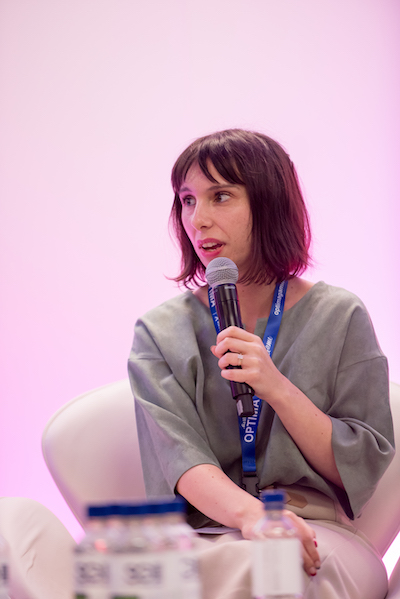 Just try things. Step by step. You will follow what works for you as you go along. But don't wait!
I connect cultures, people and businesses. More specifically, I am a knowledge transfer enabler between Japan and the rest of the world.
WHY DID YOU CHOOSE THIS FIELD?
I was lucky in that my upbringing surrounded me with the Silicon Valley startup scene. The concept of starting your own business - and getting involved in tech - seemed natural to me. If there was ever a problem, I usually wouldn't accept that something wasn't possible. I'd consider other ways we could solve it or get around it. This is a trait I still have and has stuck with me. I think it helps me a lot in business... although in day-to-day life I know I can frustrate people! I also studied Japanese in school and ended up living in Tokyo and working in market research for my first job.

My interest in globalism kept taking me farther and farther away from California. When I completed my masters in London, I got involved in London's startup ecosystem as I had founded the UK branch of my family's software development business. I learned how to sell software. It wasn't easy -- I think my background in Silicon Valley is what kept me going through it. It didn't make sense to me that because I was young and a woman, people wouldn't trust what I was selling. I did make some fantastic connections doing that, and they carried over into my next business. Once I founded Tokyoesque, we became purveyors of information about innovation / tech for our Japanese clients.
WHAT DO YOU LOOK AT & THINK, "I WISH YOUNGER ME WOULD HAVE KNOWN THIS WAS POSSIBLE?"
Honestly, I wish the younger me had known that it would be possible - and desirable - to have lived in 3 different continents and hold a new passport by the time I was 30, while also being an entrepreneur. I didn't make those choices early on. It happened step by step as I realised each thing was what I wanted for my life.
WHY DO YOU LOVE WORKING IN STEM?
As I mentioned, we enable knowledge transfer from one market to another, and we often deal with STEM topics. I love being able to connect and help people / businesses understand the world a little bit more. It is meaningful to know I've had a role in doing that. As for my time working in software development, I would say specifically that I loved the creativity - that I could get involved in so many interesting different projects.
BEST ADVICE FOR NEXT GENERATION?
Just try things. Step by step. You will follow what works for you as you go along. But don't wait!
"No man is an island, entire of itself; every man is a peice of the Continent, a part of the main." -John Donne