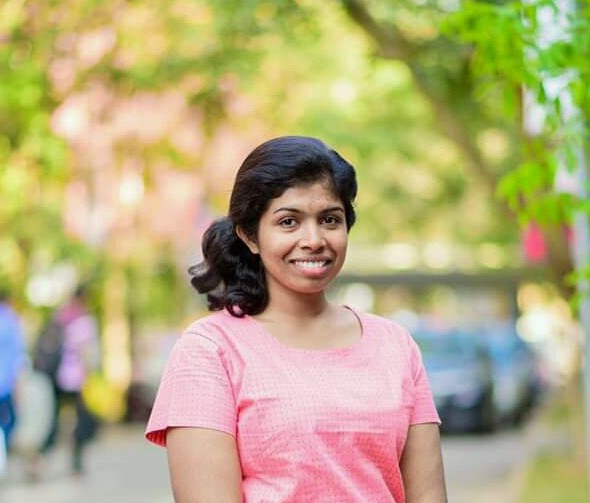 Nayanathara Dhananjalee Hendeniya
Research Assistant
Department of Materials Science and Engineering
University of Moratuwa
Your failures are the best learning opportunities you will ever have.
My work is focused on the applications of Cold Plasma Technology in various applications that have the potential to be utilized in the industrial scale. My country needs scientifically-proven, environmentally, and economically friendly industrial solutions and I am a part of making that dream a reality. In fact, I am proud to say that we are successful.
WHY DID YOU CHOOSE THIS FIELD?
When I was about 10- years old, my mom brought me a kid's newspaper she burrowed from the school she was been working at that time. There was this interesting news article about "Columbia Disaster" that happened in 2003. Obviously, the news was terrible, but I saw two women who were in the crew of the space shuttle. One of them was Kalpana Chawla, an Indian lady. I was surprised and pretty proud because she was a South Asian woman. SOUTH ASIAN WOMEN CAN GO TO SPACE. But then again, I was shocked by her death, and 10- year old me wanted to make a better space shuttle one day. That day onwards, if anyone ever asked about my future ambitions, I'd say, "I will become a scientist in NASA." That was my only dream.
Back in those days, I had no internet facilities and the only source of information was books and newspapers. I developed a habit of reading about space, stars, galaxies, space missions, and many other things. I always had a thirst for knowledge about these things. When I was supposed to submit assignments in school, I spent days alone in my room, reading my collection of newspapers and finding relevant information. Now I realize it was my research-oriented subconscious that led me to there.
Fast forward to my undergraduate life through knowledge-thirsty school days, I found a new interest in Materials Science and Engineering. Every little thing in our lives is based on materials. Their structure, their properties, how these structure-property combinations can be manipulated for our purposes, etc. grasped me in a way I never thought it would. My childhood dream to become a "scientist" slowly but strongly resurfaced. I set a goal. I realized that being a scientist helps me, the country, and the world in great amounts.
Now I want to pursue my career as a researcher.
It would be a big mistake if I didn't mention Dr. Asha De Vos, a Sri Lankan marine biologist, whose story helped me through the hard times I had during my undergraduate days and made me realize that I should strictly stick to this career path and nothing else.
WHAT DO YOU LOOK AT & THINK, "I WISH YOUNGER ME WOULD HAVE KNOWN THIS WAS POSSIBLE?"
I wish the younger me would have known that she could become the only female member of a research group and still be one of the best members the group ever had. She would've been proud of herself if she knew that she is validated purely because of her talent.
WHY DO YOU LOVE WORKING IN STEM?
It has a dynamic nature, with a thousand different possibilities. I never get tired of thinking about the different ways I could approach a problem. STEM always refreshes. When I wake up in the morning, I would never know how much I would succeed, or how much I would fail, or how many different things I would learn by the end of that day. Also, you can always learn from your failures. I believe there is no such thing as "failures" in STEM. They are learning opportunities. This "surprise effect" and "never-ending learning culture" are the best things I love about working in STEM among many other things.
BEST ADVICE FOR NEXT GENERATION?
Your failures are the best learning opportunities you will ever have.
"Never forget what you are. The rest of the world will not. Wear it like armor, and it can never be used to hurt you."
-Tyrion Lannister