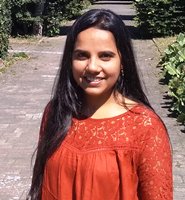 Postdoctoral Fellow at Karolinska Institute and Scilifelab
Keep dreaming and follow your heart always.
I'm doing research to better understand the melanoma tumor and increase PD-1 immunotherapy outcome
WHY DID YOU CHOOSE THIS FIELD?
As a kid, I was always amazed by the mystery of brain. I always wanted to know more about it, how this works, how we think, how we memorize, how we perceive and many other questions. While growing up, I saw many people losing lives to cancer and got interested in it. Cancer looked as mysterious to me as the brain itself. Coming from a family full of teachers and engineers, I didn't back know what's research. When I had to choose my career after school, I didn't know what I wanted to pursue. I didn't want to be a doctor or biotech person. Luckily, yes! I would say luckily, as my brother told me about this new integrated B.Tech. M.tech. course in Converging Technologies(Centre for Converging Technologies, Rajasthan University) where I get to study four main knowledge streams- Information Technology, Nanotechnology, Biotechnology and Cognitive Neurosciences (sounds amazing, isn't it!). I further get to choose one of these for my Master's specialization. I can't tell you how I felt when I heard about this course. It was as if someone heard my dreams and gave words to them. This was exactly what I wanted to do. There was no stopping after that. This course broadened my academic knowledge and interests. I got to learn fundamentals of not just neurosciences and all other interesting disciplines. We did multiple small projects and presentations, that filled me with new dreams and confidence.
As I started my Master's, I was fortunate to get selected for a Indo-US workshop on Brain and Cognition. The platform got together eminent neuroscientists from across the world to share their research and interesting findings. It made me realize my love for science and research. I decided that time itself, I want to do a PhD.
Little did I know, when I filled my first PhD application in one of the premier institutes in India that I would get selected among the other hundred applicants coming from both engineering and bio-science. I feel this is what worked for me, the goal to give my best and gain confidence for future interviews.
Being the first PhD student of my lab, my first research journey has been an incredible learning and transformation process. My PhD supervisor guided and mentored me through various aspects of science, which further increased my love for research. Today, as I do my Postdoctoral research, I feel happy that I listened to my heart, dared to dream and worked hard to fulfill them. I must acknowledge the never-ending support and love I constantly received from my family that kept me going. I still have a long research journey and many more dreams to pursue. The good thing is I never stop and I don't give up!
WHAT DO YOU LOOK AT & THINK, "I WISH YOUNGER ME WOULD HAVE KNOWN THIS WAS POSSIBLE?"
We don't actually count our achievements and focus more on criticizing our failures. During this journey, I have realized to appreciate my achievements as well. I wish the younger me would have known how independent she could be. I wish she knew, It's possible to do anything and no dream is big enough to pursue. I wish she knew, that it's wonderful to be curious about things!
WHY DO YOU LOVE WORKING IN STEM?
The major driving force is the freedom to think and perform novel work every single day. The freedom to propose new questions and find solutions. It's the opportunities we have to make difference to the society and doing what you love.
BEST ADVICE FOR NEXT GENERATION?
I just want to say keep dreaming and follow your heart always. Choose the path you want to travel. Stay focused and work hard for your goals. I want to share my 3 P's that always helped me in my science journey. That is - Patience, Perseverance and Passion for science.
"Travel, Live, Laugh, Love"
(my own mantra, inspired from Bessie Anderson Stanley's 1904 poem, "Success.")