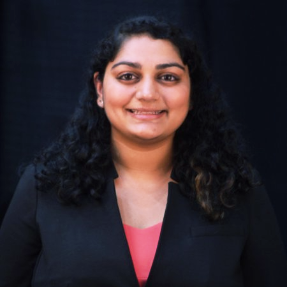 Systems Engineer, LS Technologies, LLC
There is no linear path to your career or education!
Every day, the Federal Aviation Administration (FAA) supports more than 44,000 flights and 2.7 million passengers. With so many flights to manage the mission of the FAA is to provide the safest, most efficient aerospace system in the world, and I work as a systems engineer to help accomplish this.
One of the major projects I'm working on focuses on the resiliency of the national airspace. In case an actual disaster or disruption to daily air traffic operations were to occur, I am leading the engineering team to assess, and measure how prepared the FAA was for this event as well as how they would recover.
WHY DID YOU CHOOSE THIS FIELD?
When I was in high school, I applied for and got the opportunity to participate in the Virginia Aerospace Science and Technology Scholars (VASTS) program where I spent a week at the NASA Langley Research Center planning a mock mission to Mars! Accomplishing this task in a week seemed almost impossible, but my teammates and I on the Mission Integration team worked to pull together a successful mission plan which we presented to prestigious engineers at NASA. This experience was the impetus for me to study Aerospace Engineering in my undergraduate and graduate studies.
WHAT DO YOU LOOK AT & THINK, "I WISH YOUNGER ME WOULD HAVE KNOWN THIS WAS POSSIBLE?"
Definitely working on and earning my Master's degree while working full time as an engineer! When I was younger, I used to think you had to choose one or the other – you're either in school or you're working. It was a lot of hard work, but I was able to prioritize and balance my work and course load and graduated with my M.S. in Aerospace Engineering in two years!
WHY DO YOU LOVE WORKING IN STEM?
One of the reasons I love working in STEM is because it's such a collaborative environment. Growing up, I remember doing high school science fair projects where I'd brainstorm ideas with my partners; at VASTS we pulled off a high-stakes project with my Mission Integration Team; and even today at my current job I'm constantly working with a team to solve complex problems in the national airspace.
BEST ADVICE FOR NEXT GENERATION?
There is no linear path to your career or education! There are so many possible avenues you can take in STEM so as your learning and living try to really hone in on what interests you the most! I grew up with an interest in aerospace thinking I was going to be an astronaut, but that somehow transitioned to an interest in the FAA supporting air traffic operations and absolutely LOVE the direction my career went to.
"That's one small step for man, one giant leap for mankind." -Neil Armstrong