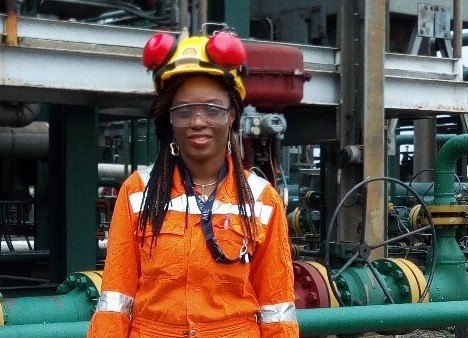 Remote Operations shift manager, BOC Ltd
STEM offers you a variety of career options that will directly make a positive impact in the world of today.
I am a chemical engineer who has over 10 years experience working in a production field. BOC Ltd is the largest provider of industrial, medical and special gases in the UK and Ireland. Currently, I am responsible for the safe production of atmospheric gases, including oxygen, nitrogen and argon. These products are supplied to hospitals (medical oxygen), industries and pharmaceuticals across the country. I remotely operate safely the Air separation plant (ASU) and Liquefier plants across various geographical locations in the UK, Ireland and South Africa. I am also responsible for power management, emergency response, process optimization and plant performance.
WHY DID YOU CHOOSE THIS FIELD?
When I was younger, I particularly enjoyed creating and mixing things up. I enjoyed baking, science laboratory experiments like titration and I was also good with numbers. During my high school, I was very good with Chemistry and Mathematics; it helped sharpened my methodical thinking and logical problem solving skills. I had the opportunity to work as a student in two industries as part of my school gap year industrial work experience. I worked for 6 months at a soap manufacturing industry and 3 months in an oil and gas industry. I was amazed at the range of products made from mixing raw materials together to make soap, paints, detergents etc. I also learnt a lot about oil and gas production. I got very excited about what I have leant and discovered that I took my passion further into the University and studied Chemical Sciences (1st degree). My BSc. project at the time involved designing a process rig to solve a problem. It was very tasking but I developed skills beneficial to the study of Chemical Engineering, such as process design, analysis and research. After graduation, I realized that as a chemical engineer I could convert seemingly useless materials into great products required in the world. I went to several Career fair and met process and chemical engineers from various organizations. I realized at that moment that I needed to be a chemical engineer to reach my full potential. I needed to learn more on the various ways engineers design plants and create several products used in the world. I did Chemical Process engineering as my 2nd degree, worked in an Oil and Gas industry for over 10 years as a Chemical production engineer. I currently work at BOC in the production of atmospheric gases used in hospitals, food and pharmaceutical industries all over the world.
WHAT DO YOU LOOK AT & THINK, "I WISH YOUNGER ME WOULD HAVE KNOWN THIS WAS POSSIBLE?"
A key achievement was when I was internationally recognized as a Chartered Engineer (CEng) from the Institute of Chemical engineers (IChemE) and accredited MEng. status. That achievement sealed my chemical engineering journey and it was worth it. A younger me never thought this was possible as I struggled with few engineering modules while in school. Looking back, I will tell my younger 'me'.. 'Keep working hard and carefully figure out the career you will love, it will involve trying different things, new things, challenging things but each step you take moves you closer to your career path. Don't give up.'
WHY DO YOU LOVE WORKING IN STEM?
I love working in STEM as it is a fulfilling career for me. I wake up knowing that in my circle of influence at work, I am contributing immensely and making an impact across a variety of industries in the world. During the COVID-19 pandemic, I was recognized as a key worker as I produce medical oxygen required in the hospitals to save lives. I produce liquid nitrogen used in food preservation; blanketing in oil and gas industries; inerting in electronics industry. I produce argon used in welding and fabrication industries (steel works and glass) as well as services to the aerospace industry. I wake up daily looking forward to making all these products required for our daily use and comfort in the world we live.
BEST ADVICE FOR NEXT GENERATION?
STEM offers you a variety of career options that will directly make a positive impact in the world of today. A quote from the chief executive of WISE Helen Wollaston says "If you study STEM, the world really is your oyster". The world is changing and technology has revolutionized every sector, science research is required, engineering and mathematics is needed to solve the challenging problems facing the world of today. The future is yours, so take it and create the world you want with a STEM passion. You will get all the support you need.
Th world is OURS, lets LIVE it, the future is OURS, lets TAKE it.