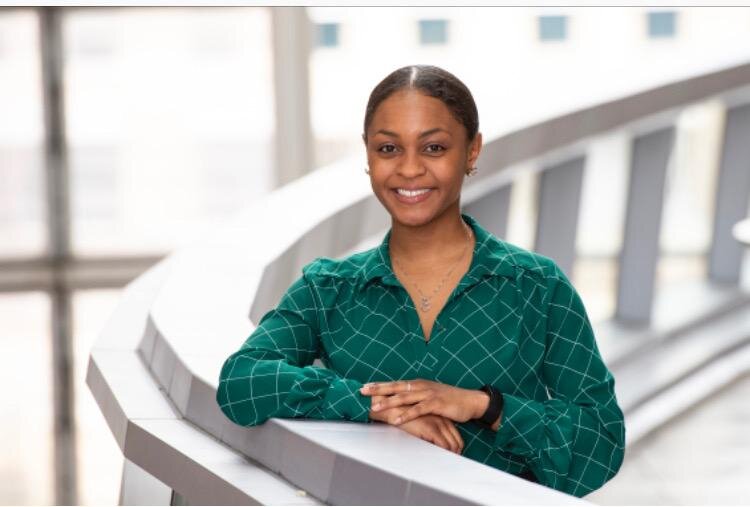 Neuroscience Doctoral Candidate, University of Cincinnati College of Medicine
I study the role of socioeconomic status on the behavioral and neurobiological correlates of reading for school age children. I administer neuropyschological tests to examine executive functions and language abilities related to reading. I also collect and analyze neuroimaging data to assess networks within the brain that contribute to reading abilities. Ultimately, I aim to understand the associations between socioeconomic variables such as maternal education and household income on reading skills and the functional connectivity of reading related networks in order to provide interventions that improve child reading outcomes.
WHY DID YOU CHOOSE THIS FIELD?
I was diagnosed with learning difficulties early in my childhood, which hindered me academically. However, I had major advocates in my life who made sure that I had resources to help me with these difficulties. My love for reading books and my passion for discovery fueled my growing adoration for learning about science. I completed my B.S. in Biology at Hampton University and decided to pursue a PhD in Neuroscience at the University of Cincinnati College of Medicine. I would not change a thing about this journey and I am grateful for the bright future ahead.
WHAT DO YOU LOOK AT & THINK, "I WISH YOUNGER ME WOULD HAVE KNOWN THIS WAS POSSIBLE?"
When I passed my qualifying exam for my Neuroscience Graduate Program. Sometimes, I wasn't sure if I was going to make it through the program as I struggled often. It brought back previous insecurities I had as a child when I felt that I wasn't retaining the information. I worked so hard to make it through this exam and changed many of my study habits to improve my outcomes. My dad also drove to Cincinnati for moral support the day of the exam. When I was told that I passed, I cried. It still feels like one of my greatest achievements even though there have been many awesome things that have happened thus far.
WHY DO YOU LOVE WORKING IN STEM?
I love STEM because there's always something new to learn. Every day is a puzzle that I enjoy solving. It's a career path that is extremely versatile and some days are not the same as others. I wake up with new challenges which require me to use critical thinking and problem solving to answer various research questions.
BEST ADVICE FOR NEXT GENERATION?
You belong here. Myself and many other scientists are working every day to make sure that you have representation and know how valuable you are in this field. Nothing is impossible and if you want to pursue STEM, go for it. As a child, I almost made the mistake of not pursuing science because someone told me that I would not succeed. I stand here today with proof that I belong here and I hope one day you feel the same.
"There's power in allowing yourself to be known and heard, in owning your unique story, in using your authentic voice."-Michelle Obama