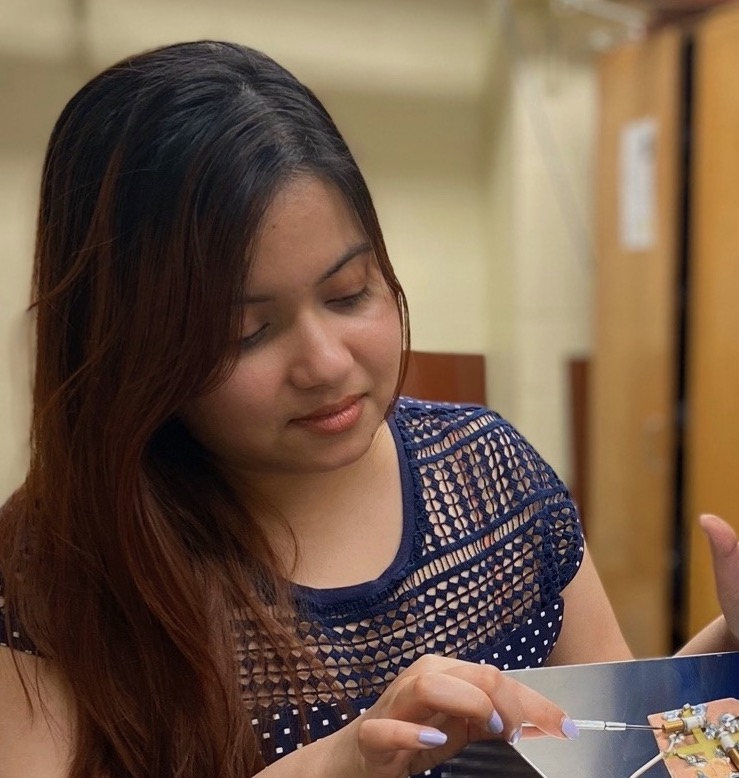 Ph.D. student in Biomedical Engineering, Space MRI Lab, University of Saskatchewan
Your dreams are never too big and never too ambitious.
I work with a team of engineers that are building prototypes for portable MRI scanners, using innovative technology, to monitor astronaut health in space missions.

I work on both software and hardware side of things, essentially, do whatever it takes to get the MRI working. I use simulation software to understand and find solutions to existing problems. I also get to implement those solutions on the system hardware and advance the technology further.

Believe it or not, during the current COVID-19 pandemic, when most of us have had to work from home, I have actually been working on one of our prototype MRI scanners in my basement. It is both challenging and exciting!
WHY DID YOU CHOOSE THIS FIELD?
I had always been more inclined towards science and technology and I knew I wanted to choose engineering after school. However, it was during my undergad in biomedical engineering that I truly realized its transformative potential. The idea of using my engineering degree to solve problems that can positively impact healthcare was particularly inviting and I haven't looked back since then.
WHAT DO YOU LOOK AT & THINK, "I WISH YOUNGER ME WOULD HAVE KNOWN THIS WAS POSSIBLE?"
Oh, the younger me knew of so many impossibilities. Given the stereotypes that surround women, it is not unusual for young women to doubt themselves and feel inadequate for the career path they choose. I wish the younger me had known that I have the self-confidence I need to foray into this field. The younger me would have never believed that I would be pursuing a Ph.D. in biomedical engineering while working on a tremendously exciting project such as building an MRI for space.
WHY DO YOU LOVE WORKING IN STEM?
I get to work with brilliant minds and do ground-breaking work that has never been done before. Every day brings a new challenge with itself. I have the liberty to make mistakes and learn from it. It is unbelievable how many times new ideas and solutions are actually sparked from the mistakes we make.
BEST ADVICE FOR NEXT GENERATION?
Your dreams are never too big and never too ambitious. If you are willing to work for it, you will find a way. No doubt, there will be days when it will look like things will never work out and you will feel like giving up. It is crucial that on those bad days, you do not give up. Your determination, hard work and perseverance will take you wherever you want to go.
"You never fail until you stop trying" – Albert Einstein