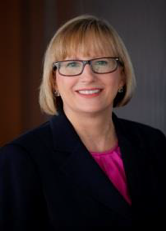 Faculty at The Center for Leadership at Lake Forest Graduate School of Management, SIM Executive RLF Facilitator, CEO of Cedibus, LLC & member of multiple board of directors and mentor for the Chicago Innovation Women's Mentoring Co-Op
Retired Senior Vice President & Group CIO, Allstate Insurance
The STEM fields offer so much potential to improve our world.
Currently I am a speaker and facilitator focused on developing leaders, leading innovation, building high performing teams, agile leadership and unlocking individual potential.
WHY DID YOU CHOOSE THIS FIELD?
I didn't actually choose my career. As a young girl who always did well in math and science and who did not want to go into a traditional "female" role, I thought I would end up in the biological sciences. But without money for college or any role models, I lowered my expectations to a community college certificate in medical assisting. I ended up getting a clerical job in a medical company where a "me too" moment forced me to quit immediately. I then took a clerical job at Allstate Insurance because they had tuition reimbursement. I knew at that point I needed to get a bachelor's degree in order to secure my future. So I started at Allstate and worked on a degree in computer science (it's science isn't it?) and eventually graduated with a degree in behavioral science. I spent the majority of my career there in various IT roles. It was a career that I didn't plan for but it suited me well.
WHAT DO YOU LOOK AT & THINK, "I WISH YOUNGER ME WOULD HAVE KNOWN THIS WAS POSSIBLE?"
That I could actually become a well-respected senior executive.
WHY DO YOU LOVE WORKING IN STEM?
All of the STEM disciplines have the potential to change our world for the better. I get incredibly excited when I see individuals achieving things they didn't think were possible. The dual reward of watching an individual achieve their personal potential while creating something that positively impacts the world gives me the energy to keep pushing.
BEST ADVICE FOR NEXT GENERATION?
The STEM fields offer so much potential to improve our world. Health, environment, and poverty are just a few of the areas where technology and other STEM disciplines can make a difference. Nearly any field that interests you has a STEM component. You have the potential to help create a better future, armed with STEM.
What lies behind us and what lies ahead of us are tiny matters compared to what lies within us.
Ralph Waldo Emerson