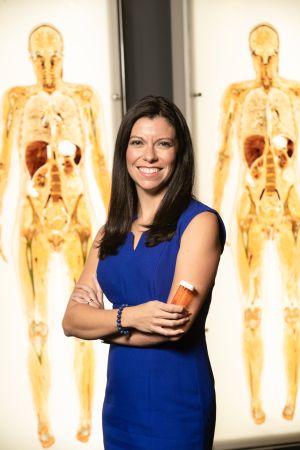 Global Strategic Marketing Manager,
DuPont Nutrition & Biosciences
STEM fields can seem intimidating, but the reward of working in STEM is worth all the hard work.
My current job is in marketing. As an engineer, I thought marketing was equivalent to advertising. When a manager of mine recruited me into marketing, I quickly learned how wrong that thought was! I found my technical background to be extremely valuable in helping to create new innovations for the pharmaceutical field. That's right, I still work on technical innovations but through a slightly different perspective to ensure business success. I get to spend time talking to pharmaceutical customers around the world to understand their formulation challenges and working with my technical colleagues made up of chemists and engineers to develop relevant solutions for these problems. My past experience working in plants and labs is extremely helpful in ensuring the solutions we seek will actually be feasible.
WHY DID YOU CHOOSE THIS FIELD?
I grew up in a family of engineers - my father, brothers, and uncles are various types of engineers. I remember my dad drawing machines on the back of paper napkins at dinner as he worked through a problem that still rattled in his brain from his work day. As a young child, I didn't know all the details involved in being an engineer, but I had a very clear idea that engineers solved problems and I knew I could make a difference as an engineer. So I chose chemical engineering because I wanted to work in pharmaceuticals to help sick patients feel better.
WHAT DO YOU LOOK AT & THINK, "I WISH YOUNGER ME WOULD HAVE KNOWN THIS WAS POSSIBLE?"
The most rewarding part of my job is that I have managed to continue working in the area I was most passionate about coming out of college – pharmaceuticals. And I've gotten to do that through various jobs that have really challenged me to never stop learning. I love working with pharmaceutical companies on their drug delivery problems – and then seeing that final commercialized product on the shelf. One out of 3 medications globally contain products that I work with - I love knowing that what I do every day is impacting and helping people.
WHY DO YOU LOVE WORKING IN STEM?
My favorite thing about working in STEM is using the science and math tools that I love to impart real, meaningful change in the lives of many. STEM touches everybody in the world - I love knowing that I'm improving somebody's life through my work.
BEST ADVICE FOR NEXT GENERATION?
STEM fields can seem intimidating, but the reward of working in STEM is worth all the hard work. Just because something feels hard it doesn't mean you weren't meant to pursue it. Nobody is born knowing everything - some things take practice and study to perfect. So struggling with a math or science concept the first time you encounter it doesn't mean that you can't eventually conquer it!
"There's no elevator to success, you have to take the stairs!"