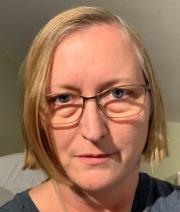 Vice President, Head of Regulatory Affairs Medical Devices
Novartis
Cambridge
There is a science or technology or an engineering field or a mathematical field that is relevant to your interest if it is not directly your interest.
I lead a team of expert regulatory affairs professionals in a pharmaceutical company. We help get drugs to patients all over the world by helping our drug regulatory teams with the medical devices and in vitro diagnostic assays that are often needed for patients to use our drugs correctly.
WHY DID YOU CHOOSE THIS FIELD?
I loved biology growing up and am fascinated by the discovery of new things. I majored in Biology thinking that I would become a veterinarian but was drawn to the microbiological and molecular biological studies once in college. I went on to study Biochemistry and Molecular Biology in Graduate School where we focused on questions of human cancer progression. I loved working at the lab bench but I found academia frustrating in that I felt too far away from actually helping patients with my work. After three post-docs I left academia for industry working for an in vitro diagnostics company as a process development engineer in the Research and Product Development Department and loved being able to use my problem solving skills and background to make products that directly helped patients. Some of my responsibilities included regulatory in this position and the next one so that when a recruiter called me with a potential job in regulatory it was not a big stretch to switch careers from product/process development to regulatory affairs. Regulatory affairs in the medical technology and pharmaceutical industry allows me to use my scientific and problem solving/strategic thinking training but in a way that is a few steps closer to the patient than in typical R&D setting so I am happy!
WHAT DO YOU LOOK AT & THINK, "I WISH YOUNGER ME WOULD HAVE KNOWN THIS WAS POSSIBLE?"
This is a tough question for me. Whenever someone told me that something would be difficult to do either in general or for a girl or woman it would motivate me to prove them wrong. My mother tells me that she was furious at an Jr. High School counselor that told me not to pursue sciences because girls can't do science and I laugh because I honestly don't remember him telling me that. I think I tend to dismiss that kind of "advice" as not helpful or irrelevant and put it out of my mind. When I look back on my career path I see that it took both my own motivation to learn and willingness to take on challenging situations as well as a certain amount of good fortune and being in the right place at the right time. So I can't really pin down any one achievement. Each accomplishment or achievement or project completion even if unsuccessful provides valuable experience that prepares me for the next project or experience. I just want to keep learning. If I have to pick something though, I guess it would be the achievement of leading a team. My younger self never really thought about more than how to move myself forward in my own career and now I have both the responsibility and joy of helping other move their own careers forward.
WHY DO YOU LOVE WORKING IN STEM?
My greatest motivator and energizer is when we find out that something we thought we knew is actually wrong. I love it when new discoveries turn an entire field of study on its head. This lets me know that there is more to learn, more to discover, more to share. We are not done!
BEST ADVICE FOR NEXT GENERATION?
I would say to follow your interests. There is a science or technology or an engineering field or a mathematical field that is relevant to your interest if it is not directly your interest. If you like working in a lab great! If you don't, there are plenty of careers that are applicable but do not involve lab work. But most of all don't let anyone cause you doubt yourself. Sometimes the old adage of "you never know unless you try" is all you need to move forward.
"The great enemy of communication, we find, is the illusion of it." - William H. Whyte