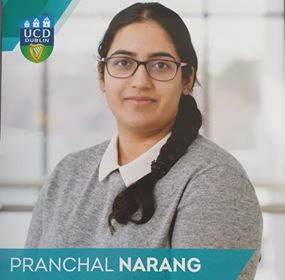 3rd Year Computer Science Student at University College Dublin
Choosing a STEM field means learning forever.
Although I am a student and course work is an integral part of my days, I spend a lot of time working towards the goal of making STEM fields accessible to ALL.
WHY DID YOU CHOOSE THIS FIELD?
I have always loved solving problems. From solving Sudoku puzzles to playing with jigsaws, finding a solution was always important to me. The other important aspect to my personality was being organised. I loved to plan and clearly lay out my ideas for the rest of the world to admire. I spent hours at a time drawing out my thoughts, bit by bit. So, when it came time to make course choices, Computer Science was an obvious choice as it allowed me to bring both of these aspects of my personality together. I had to find solutions to problems and explain my thought process to others.
WHAT DO YOU LOOK AT & THINK, "I WISH YOUNGER ME WOULD HAVE KNOWN THIS WAS POSSIBLE?"
Recently, I was awarded the Google Women TechMakers Scholarship 2020. This is by far one of my biggest achievements, to date. However, before I came into Computer Science, I was not aware of this and many more such opportunities available to females in tech. I wish that both younger me and others knew more about these wonderful initiatives which are trying to promote gender equality in STEM. Knowing that such achievements are possible would empower many more individuals to pursue careers in STEM and would create a more gender-equal and diverse environment in STEM for all.
WHY DO YOU LOVE WORKING IN STEM?
My favourite thing about working in STEM is being aware of the massive positive impact my knowledge can have on the world. I look forward to expanding this knowledge each day so that one day, I too, can contribute to people's lives on a large scale. The best thing about STEM is that the possibilities are endless and learning continues forever. STEM is perfect for someone like me, whose hunger for knowledge is never satisfied.
BEST ADVICE FOR NEXT GENERATION?
Choosing a STEM field means learning forever. If you have an insatiable hunger for knowledge and a craving for answers, STEM is for you. Although, as with anything, there will be a few bumps along the way, keep pushing forward and no one can stop you from succeeding. One piece of advice I have for you is that you need to keep your eyes open for opportunities and apply to everything. Even if you don't think you'll get it, you've nothing to lose, so apply :)
"If today were the last day of your life, would you want to do what you are about to do today?" - Steve Jobs