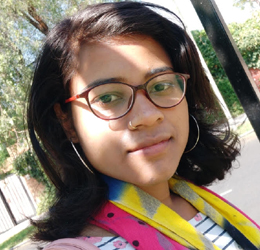 Ph. D. student, Department of Astronomy, Universidad de Chile
Always keep believing in yourself.
Astronomer, I am working with Prof. Paulina Lira. My research interest currently focuses on the variability of the AGN and to calculate the Black Hole Mass using variability property.
WHY DID YOU CHOOSE THIS FIELD?
When I was in high school, I read a magazine mentioning about the astrophysics branch. I was quite excited and started to look Astrophysics as my future.
I studied hard and got enrolled in one of the best University of state for the M.Sc. Physics and Astrophysics. After having experienced and learned its tenets through the postgraduate study, in particular, been influenced by the Lectures on Astrophysics by Prof. S. K. Pandey and Prof. N. K. Chakradhari during my Postgraduate (Master in Physics and Astrophysics) Degree, I decided to take a step further ahead and explore this mysterious domain through purposeful research. Also, I did a project under Scientist Hum Chand from the ARIES, Nainital.

After getting enrolled in Universidad de Chile for Ph.D., I am working under the guidance of Professor Paulina Lira. The idea is to test whether optical time variability can give an estimate of the mass of the black hole that is powering the AGN.

Regarding my background, my family was not very supportive when I decided to pursue my Ph. D. in abroad. But I started to get help from my Professors and Friends whether it would be emotional or financial. With time, my family started to understand my Dream.
WHAT DO YOU LOOK AT & THINK, "I WISH YOUNGER ME WOULD HAVE KNOWN THIS WAS POSSIBLE?"
When I was very young, I had no clear idea of what I wanted to be in my life. But I had the desire to do something to help others. I was inspired and influenced by Mahatma Gandhi and Subhas Chandra Bose, the freedom fighters of India.

I had the desire to serve my country. Later in high school, I had decided to become an astrophysicist.
WHY DO YOU LOVE WORKING IN STEM?
When I was young, my father, Mr. Krishna Ram Patel, always teaches me Mathematics and Science. With time, I started to get interested in it. Moreover, when my ambition became to be an astrophysicist, I was determined to choose STEM.
BEST ADVICE FOR NEXT GENERATION?
I want to convey the message for the next generation of girls in STEM that always keep believing in yourself. If you have a dream and the desire to fulfill that dream, then keep working on it.
Luxury and Lies have huge maintenance costs. But Truth and Simplicity are self-maintained without any cost. By APJ Abdul Kalam