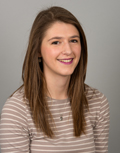 Lecturer in Biometrology, Loughborough University, UK
There is no 'one-size-fits-all' in STEM. There are so many career possibilities.
I focus on teaching and research activities, as well as other elements within higher education such as pastoral care for students.

My teaching focuses on user-centred design, and my research looks at user-centred design within healthcare and manufacturing scenarios.
WHY DID YOU CHOOSE THIS FIELD?
I really enjoyed my student dissertation project which gave me lots of exposure to research. I wanted to use my skills to help others so I chose to look into healthcare-related engineering PhDs. I was really passionate about making the measurement in healthcare better, and started to develop my own research ideas, which gave me the determination to apply for a lecturer position.
WHAT DO YOU LOOK AT & THINK, "I WISH YOUNGER ME WOULD HAVE KNOWN THIS WAS POSSIBLE?"
Getting awarded a lecturer position.

I always thought that I would have to work for years and years to prove I was just good enough to be considered for a lectureship. But my hard work during my PhD and research career, collegiality, and my determination to develop my ideas showed that I had the potential to grow as a lecturer, rather than have to try and fit into a 'normal' career trajectory. I am one of the youngest members of staff to be awarded a role like this, but it was because of my hard work and potential, allowing me to be a role model for younger students and to develop my own research portfolio. Not all research and higher education jobs have the same path.
WHY DO YOU LOVE WORKING IN STEM?
I love working in STEM because there are so many possibilities and skill sets! Despite working in an engineering department, I originally had an arts background at A-level, and I love how I use my creative skills to solve problems and communicate with others. I wake up looking forward to working with students and staff members that engage and challenge me to be my best, and to work as a team to solve big problems.
BEST ADVICE FOR NEXT GENERATION?
There is no 'one-size-fits-all' in STEM. Everyone has their strengths and differences and it is important to be aware of this to work effectively as a team. There are so many career possibilities that you can choose to do what you love within your job and have an impact through STEM.
Tell Me and I Will Forget; Show Me and I May Remember; Involve Me and I Will Understand. Confucius