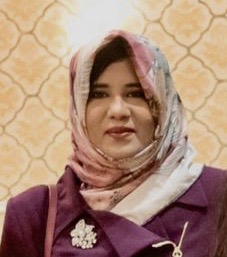 I design, develop and code Integrations between various systems.I analyze issues underlying these Integrations and manage mission critical applications.I can code in various computer science programming languages including xml,wsdl,json,python,perl,javascript,java,sql etc.
WHY DID YOU CHOOSE THIS FIELD?
My dad got me a computer early during childhood but it wasn't until middle school days that I was introduced to cobol and Fortran computer science languages and I didn't do that well in it for the first time. But I persisted and tried to learn these programming languages and then excelled in it.I enjoyed taking up challenges and staying persistent with my choice. I was confident that I would do it and excel in it. Moreover, I grew up learning about amazing women computer scientists like Ada Lovelace who wrote the first algorithm, Jean Bartik who helped create the first general purpose computer (ENIAC) and Grace Hopper worked on the UNIVAC computer and was motivated to pursue in this field.I became a curious learner of the science behind the Computers & Technology and decided to pursue it for my undergrad and grads.
WHAT DO YOU LOOK AT & THINK, "I WISH YOUNGER ME WOULD HAVE KNOWN THIS WAS POSSIBLE?"
Among many achievements and accolades I received during my school and career life, I would particularly like to mention this one achievement that I am proud of and truly humbled by , that I have been shortlisted for being the "Technology Evangelist of the Year 2020" by a global WomeninIT awards series. I wish to convey to my younger self that this was possible and achievable by persistence, perseverance and hard work.
WHY DO YOU LOVE WORKING IN STEM?
I have always been curious to learn to know how and why things work the way they did. I have been inquisitive in nature throughout my school and career life and have immense perseverance to accomplish various feats I have set my mind to.Having a STEM career feeds to my curious ,imaginative and creative personality. Being confident enough and with an optimistic attitude, I believe that we can achieve greater things. I absolutely believe in and live by what Benjamin Franklin said " You can do anything you set your mind to".
I wake up everyday looking forward to amazing challenges and new opportunities to enhance my skills and to help me advance in field of technology.
BEST ADVICE FOR NEXT GENERATION?
Stay Curious !!! I cannot emphasize enough the role of imagination and curiosity that played in my life. Observe things around you and you will find STEM everywhere around you. I remember the days I used to be given dolls/doll houses and I often used to be curious to assemble the pieces of doll house. I was often fascinated by the science behind rainbows, different colors, science behind making candies and why they tasted as they did.
I would also like to advice girls to have a never give up attitude even if they fail at times and they should believe that every failure is a stepping stone to success.
"Don't let anyone rob you of your imagination, your creativity, or your curiosity. It's your place in the world; it's your life. Go on and do all you can with it, and make it the life you want to live." - Dr. Mae Jemison