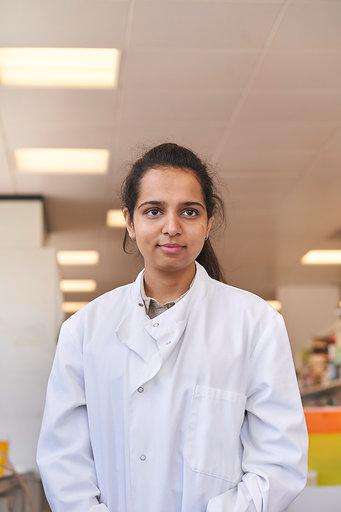 Student, University of Leeds
Do not be scared to push your boundaries and fly high.
I study molecular biology and have taken subjects such as genetics and genomics, cancer biology, bioinformatics and cell biology. I have done a summer research program in molecular microbiology on silent antibiotic resistance genes at the O'Neill Lab at the University of Leeds.
WHY DID YOU CHOOSE THIS FIELD?
I have always been a curious student and liked to explore the basis of things at grass-root level. Studying biological sciences gives me a unique feeling of power, that my knowledge could be utilised for development of drugs, vaccines, diagnostics or treatments.
At one point during high school, I was confused whether I wanted to pursue Economics or Biology. I was equally good at both of them and my family tried pushing me to do Economics because all of them belong to the business side. But, my need to explore, try and fail at things would not be fulfilled in the theoretical world of Economics and that's when I decided to break the chain and pursue sciences. It was hard at first as I had no one to guide me or warn me regarding the competition in academia or the stress. But, I think I have made one of the bravest decisions of my life.
WHAT DO YOU LOOK AT & THINK, "I WISH YOUNGER ME WOULD HAVE KNOWN THIS WAS POSSIBLE?"
I always wanted to study at Oxford / Cambridge, given its prestige and honour. However, I always thought that I wasn't good enough and 'why would those universities want to accept a student like me?'
So, I applied for Amgen scholarship (7% acceptance rate) and CRUK undergraduate fellowship at the University of Cambridge and got into both of them. I could not believe that a first generation student could get into such prestigious research programs.
WHY DO YOU LOVE WORKING IN STEM?
When working on lab projects I have realised that experiments dont always work the way its planned and one needs to come up with unique ideas to deal and troubleshoot. STEM gives me hope to keep working and striving towards my goal and deal with my problems (academic or otherwise) head-on. I believe that there is a solution to every problem and once you solve them you have leveled up!
BEST ADVICE FOR NEXT GENERATION?
Do not be scared to push your boundaries and fly high. It is daunting when you do not get the right advice or have no means to receive guidance, but, keep exploring and you will stumble across the answers you have always kept finding.
Keep asking questions and know that you are enough to fight your battle!
"If not you, then who? If not now, then when?"