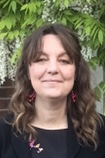 I connect people to facilitate innovation in materials science.
Why did you choose this field?
Scientific father and great teachers.
What do you look at and think, "I wish younger me would have known this was possible"?
As a youngster I never questioned that I couldn't do anything I put my mind to - my father taught me that.
Why do you love working in STEM?
Its important to me that we do the right thing - and for that you need knowledge and judgement. Science can teach you those skills.
Best advice for next generation?
Don't worry that perhaps becoming a mother one day will disrupt your career. There are so many opportunities available to support you doing both!
Inspo quote / fun fact / role model
"You don't have to be great to start, but you have to start to be great."