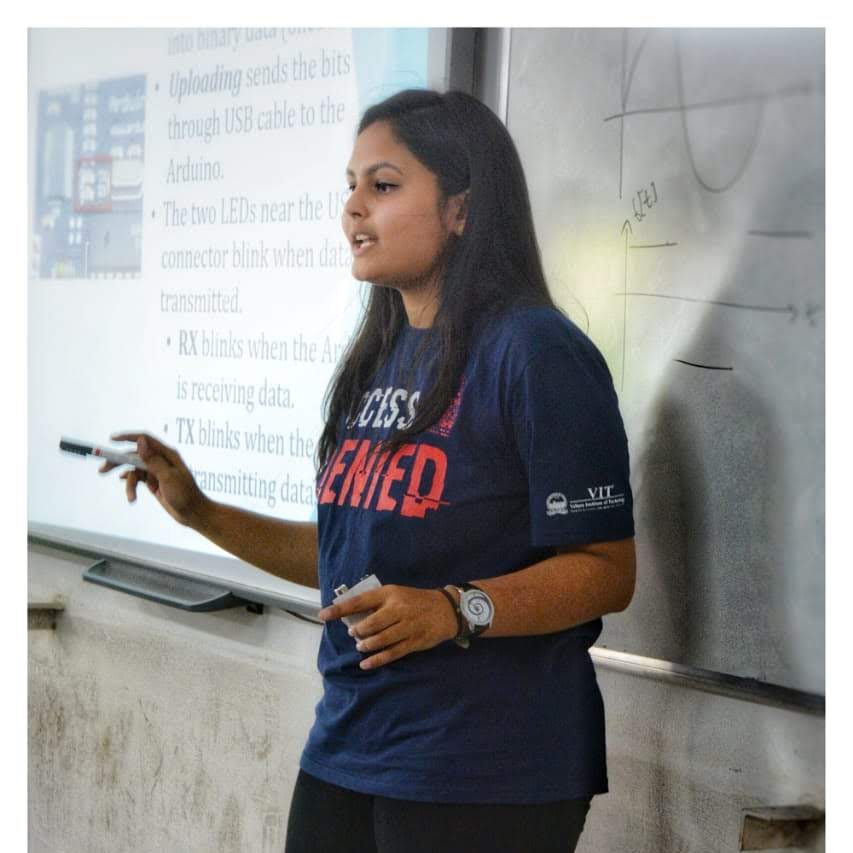 Electrical & Electronics Engineering, Vellore Institute of Technology
STEM is the most empowering field out there for you to carve out your niche in.
I'm pursuing Electrical and Electronics Engineering from Vellore Institute of Technology, Vellore, India.

Besides, I am pursuing several other things like writing, blogging, public speaking and leading.

My area of education involves making life more comfortable by aiding the production and utilization of the most basic need-electricity. My passion for writing and speaking enables me to voice my opinion for the empowerment of Women in Tech
WHY DID YOU CHOOSE THIS FIELD?
Ever since in school, I have always been fascinated about automating the most mundane tasks using electricity and this is what drove me to pursue B.Tech in the engaging field of Electrical and Electronics.
Public speaking was something that came naturally to me since childhood as I represented my school and college in various competitions and won laurels.
Writing however is a newly found passion that I am using every opportunity to get better at.
WHAT DO YOU LOOK AT & THINK, "I WISH YOUNGER ME WOULD HAVE KNOWN THIS WAS POSSIBLE?"
I wish younger me had known that there is a much larger than life experience in exploring the concepts beyond textbooks and in taking up projects beyond syllabi.
There are so many things like coding, electronics hardware etc that if I would've started at an early age, I would be much better at it than I am now.
I would love to advocate this to all the young girls out there who see their future in tech-"Now is the Time to Start!"
WHY DO YOU LOVE WORKING IN STEM?
I love the endless possibilities that STEM brings with it.
I love the contentment of creating anything we desire. I love the empowerment it brings with it, especially in a country like India where not a lot of women take up STEM.
I wake up each morning looking forward to solving problems with a different approach from my last night's attempt.
BEST ADVICE FOR NEXT GENERATION?
STEM is the most empowering field out there for you to carve out your niche in.
The possibilities are endless. The opportunities are endless.
When you build things, the world will watch.
The same people who thought you are not worth it will deem you worthy of achieving anything. Prove them wrong.
Feel the thrill of it by getting your hands dirty as you create solutions to tomorrow's problems.