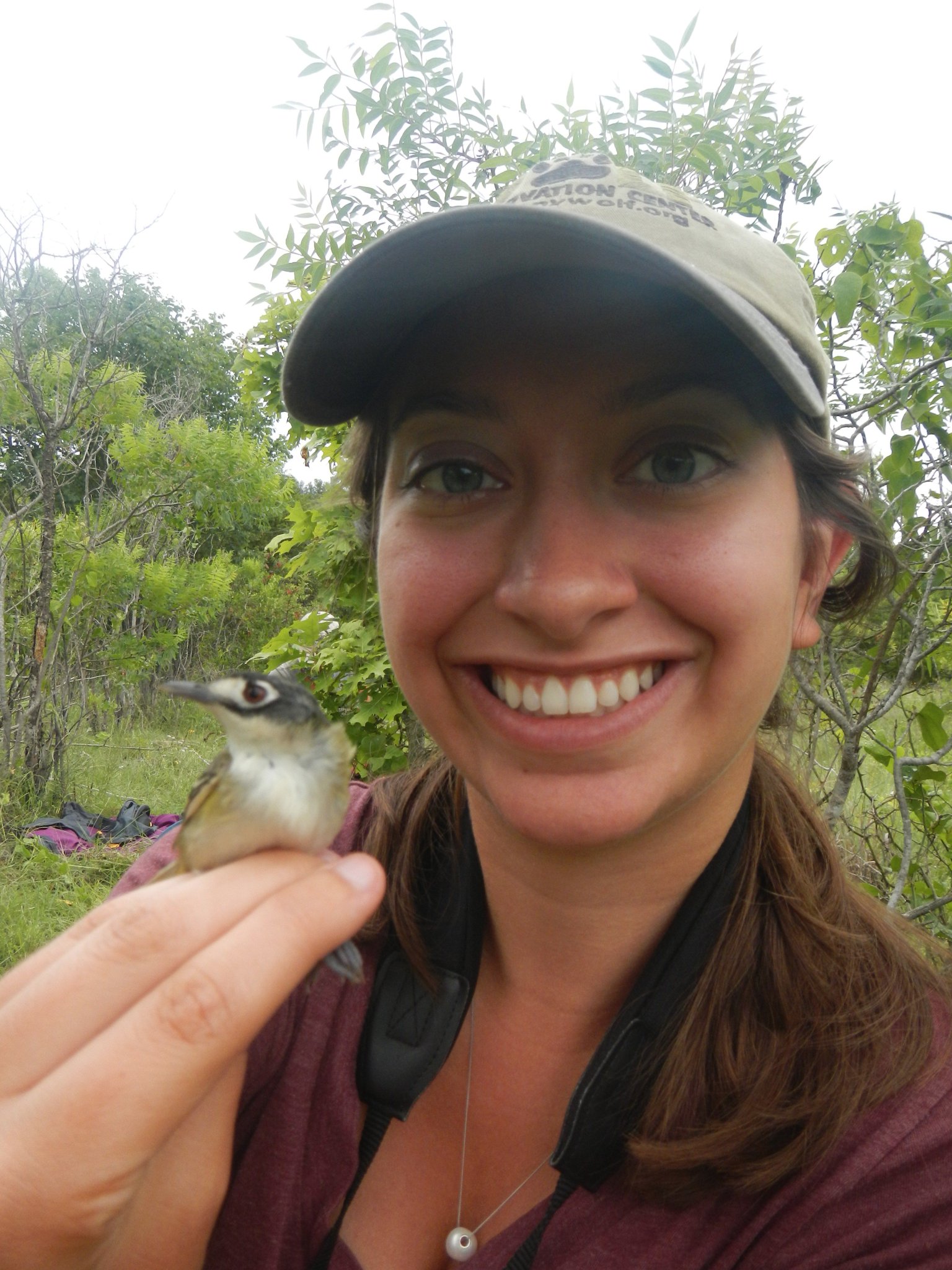 Postdoctoral Fellow
University of Wisconsin-Milwaukee
Girls are strong and smart, and so so so wonderful at STEM.
I use DNA from endangered species to study population dynamics (population growth, decline, inbreeding, etc.) and connectivity (where they move, between what populations they move, etc.), with the ultimate goal to help conservation!
WHY DID YOU CHOOSE THIS FIELD?
I was always interested in wildlife ecology in one way or another, with something as simple as loving animals from when I was young to something more intricate like getting my PhD in it. But I kinda fell into my field funnily enough.
I was taking a class in college where we went down the the beach and caught shorebirds. I was hooked immediately - I mean who wouldn't be!? Then in my PhD, my advisor was pairing me with a project and asked what I was interested in. Well birds, or course! And the project I ended up with was to help this endangered bird (called the black-capped vireo - so cute!) help using genetics. It worked out so well, my 2nd favorite classes in my undergraduate degree were genetics classes. It just clicked. I can't explain it!
This field, conservation genetics, ended up being the perfect serendipity. But that is life!
WHAT DO YOU LOOK AT & THINK, "I WISH YOUNGER ME WOULD HAVE KNOWN THIS WAS POSSIBLE?"
My comprehensive exams. They are these really intense exams: 5 days of 8 hour written exams, then a 3 hour oral exam. Yikes!
But in reality, a lot of it was built up in my head and I was more than capable of passing with flying colors. I wish younger me had known I would be fine so that I wouldn't have been so nervous and stressed out.
WHY DO YOU LOVE WORKING IN STEM?
I love the discovery in my field! You work for so long and hard to get results and when you finally get them, you feel ecstatic. You found something out about this world that no one else knew - that is so cool! And in conservation, that new knowledge means you can help endangered animals. It is so fulfilling.
BEST ADVICE FOR NEXT GENERATION?
Don't let people's opinion of what you are capable of stop you from pursuing what you want! In my experience, all those stereotypes and opinions are just rubbish. Girls are strong and smart, and so so so wonderful at STEM.
"Certain people – men, of course – discouraged me, saying [science] was not a good career for women. That pushed me even more to persevere." Francoise Barre, virologist who won the 2008 Nobel Prize in Physiology and Medicine